Multifunction meter (for Xciting models equipped with ABS)
The ABS indicator light 1 is located on the right side of the multifunction meter. This indicator light will self-check itself and the ABS system by illuminating when the ignition switch is turned on, and it turns off shortly after the vehicle starts moving.

If an ABS fault is detected by the system's micro processor, the ABS indicator will illuminate and stay on until the fault is repaired.
If the indicator light is lit and remains on after the scooter is moving, it also indicates that the ABS system is not functioning.
Even if there is a ABS system failure, the conventional braking system will still function normally.
NOTE: If the ABS indicator lamp indicates a fault, take your scooter to your authorized KYMCO dealer for repairs. Do not attempt to effect repairs yourself.
KYMCO Anti-Lock Brake System(ABS) Introduction
ABS is designed to help prevent the wheels from locking up when the brakes are applied hard while running straight. ABS automatically regulates brake force by intermittently applying and disenagaing braking force to help prevent wheel lock-up and allow for stable steering control while stopping.
Brake control function is identical to that of conventional vehicle. The brake lever is used for the front brake and rear brake.
Although the ABS provides stability while stopping by preventing wheel lock-up, remember the following characteristics:
ABS can not compensate for adverse road conditions, misjudgment or improper application
of brakes. You must take the riding precautions as with scooter not equipped with ABS.
ABS is not designed to shorten the braking distance. On loose, uneven, or downhill surfaces, the
stopping distance of a vehicle with ABS may be longer than that of an equivalent vehicle
without ABS. Use special caution in such situations.
ABS will help prevent wheel lock-up when braking in straight line but it cannot control
wheel slip which may caused by braking during cornering.

When turning a corner, it is better to limit braking to the light application of both brakes or not to brake at all. Reduce your speed before you get into the corner.

The ABS microprocessor (computer) compares the vehicle's speed with wheel speed. Since tires of a different size than those recommended by KYMCO can affect wheel speed, they may confuse the microprocessor, which can then extend the braking distance.

Use of non- recommended tires may cause malfunctioning of ABS and lead to extended braking distance. The rider could have an accident as a result. Always use the recommended size tires for your scooter.
NOTE:
When ABS is functioning, you may feel a pulsation in the brake lever - this is normal. Continue to brake normally.
ABS does not function at road speeds of approximately 6 MPH (10km/h) or less.
ABS does not function if the battery voltage is very low, or there is a power supply interruption. The ABS indication light will come in such instances.
EMISSION CONTROL & WARRANTY INFORMATION
Crankcase Emission Control System
Your Xciting scooter's engine is equipped with a closed crankcase system. Blow-by gases are routed back in to the combustion chamber via the intake system. This system does not allow the blow-by gases to enter the atmosphere.
Exhaust Emission Control System
The exhaust emissions from your Xciting scooter are controlled by engine design, factory-set fuel delivery, ignition settings, and exhaust system design. This system also includes a catalyzer in the exhaust system.
Noise Exhaust Emission Control System
The engine, intake and exhaust systems of your Xciting scooter were designed to comply with federal, state and local noise level requirements. Do not modify the engine ,intake or exhaust components, as doing so will affect compliance these noise level requirements.
Please do not modify or change any KYMCO-designed components that may alter the sound or emission level from your Xciting scooter.
KYMCO LIMITED WARRANTY NOISE EMISSIONS
KYMCO USA Inc, 5 Stan Perkins Road, Spartanburg, SC29307, USA warrants that this vehicle was designed, manufactured and equipped so that when new, it would conform with the applicable Motorcycle Noise Regulations of the U.S. EPA Environmental Protection Agency.
This warranty is not limited to any particular part, component or system of the vehicle. Defects in design, assembly, or in any part, component or system of the vehicle which, at the time of sale to the first purchaser, caused noise emission levels to exceed applicable Federal standards in effect at the time of manufacture, are covered by this warranty.
Identification Numbers Record
IGNITION SWITCH KEY IDENTIFICATION NUMBER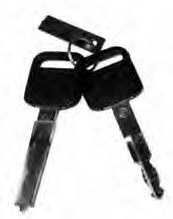 IGNITION SWITCH SECURITY SHUTTER KEY IDENTIFICATION NUMBER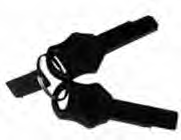 VEHICLE IDENTIFICATION NUMBER (VIN)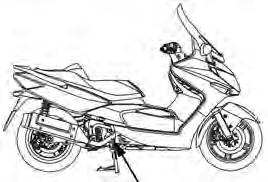 ENGINE SERIAL NUMBER (ESN)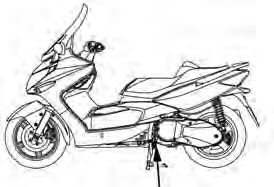 See also:
1. Rinse the scooter thoroughly with cool water to remove any loose dirt. 2. Clean the scooter with a sponge or soft cloth using cool water. Avoid directing water at muffler outlets and electrical parts.