PISTON RING INSTALLATION
Carefully install the piston rings into the piston ring grooves with the markings facing up.
Be careful not to damage the piston and rings.
Do not confuse the top and second rings.
To install the oil ring, install the oil ring, then install the side rails.
Stagger the piston ring end gaps 120Вє degrees apart from each other.
Stagger the side rail end gaps as shown.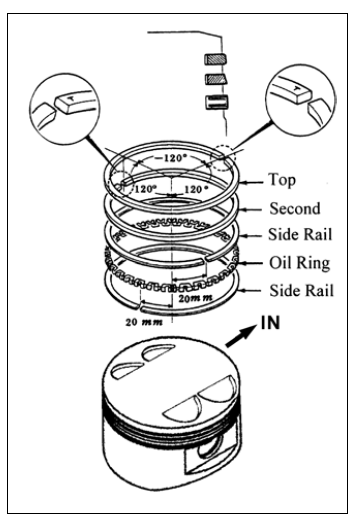 Cylinder/piston installation
Clean any gasket material from the cylinder mating surfaces of the crankcase and oil passage.
Apply engine oil to the piston pin.
Apply engine oil to the connecting rod small end and piston pin hole.
Install the piston with the "IN" mark face intake side and piston pin.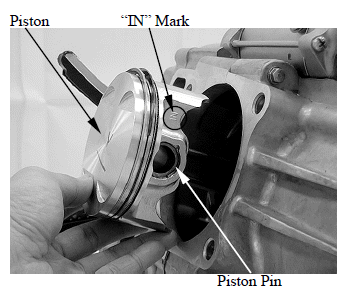 Place a clean shop towel over the crankcase prevent the clip from falling into the crankcase.
Install the new pin clip.
Make sure that the piston pin clips are seated securely.
Do not align the piston pin clip end gap with the piston cut-out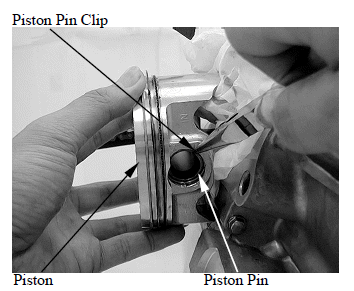 Install the dowel pins.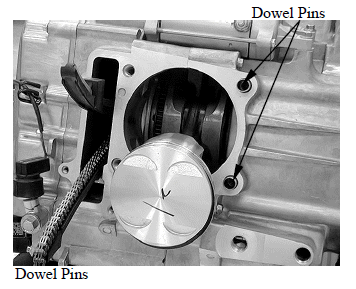 Install the gasket.
Apply engine oil to the cylinder wall, piston and piston ring outer surfaces.
Pass the cam chain through the cylinder and install the cylinder over the piston.
Be careful not to damage the piston rings and cylinder walls.
Install and tighten the two cylinder bolts to specified torque.
Torque: 10 N*m (1 kgf*m, 7 lbf*ft)
Install the block pin.
Connect the water hose.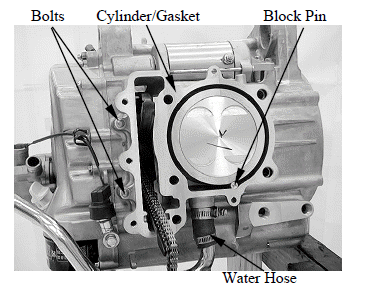 See also:
SCHEMATIC DRAWING SERVICE INFORMATION