SERIAL NUMBER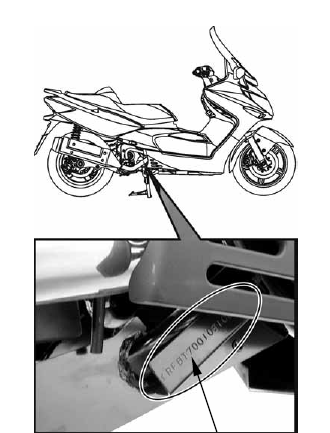 Location of Frame Serial Number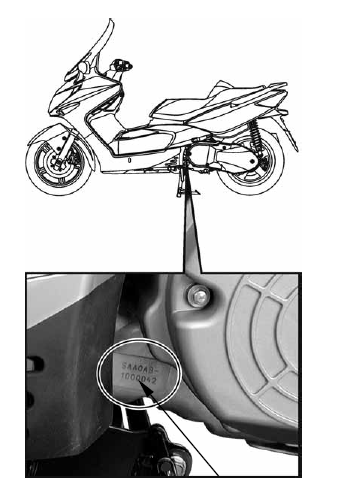 Location of Engine Serial Number
SPECIFICATIONS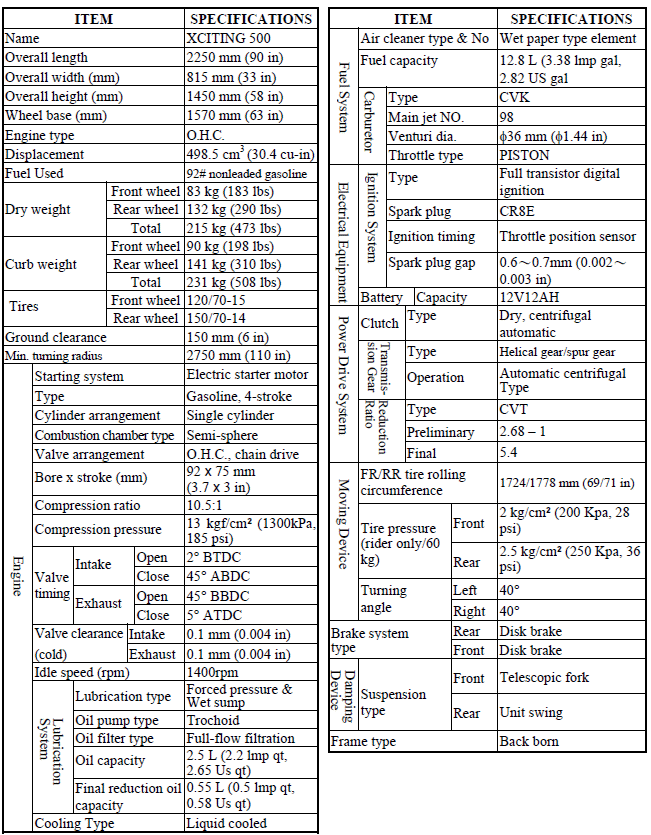 SERVICE PRECAUTIONS
Make sure to install new gaskets, O-rings, circlips, cotter pins, etc. when reassembling.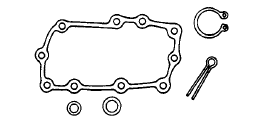 When tightening bolts or nuts, begin with larger-diameter to smaller ones at several times, and tighten to the specified torque diagonally.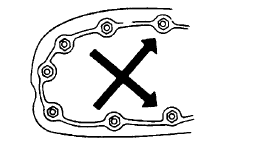 Use genuine parts and lubricants.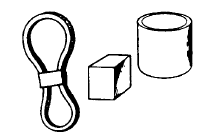 When servicing the motorcycle, be sure to use special tools for removal and installation.

After disassembly, clean removed parts.

Lubricate sliding surfaces with engine oil before reassembly.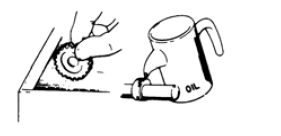 Apply or add designated greases and lubricants to the specified lubrication points.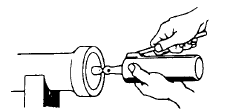 After reassembly, check all parts for proper tightening and operation.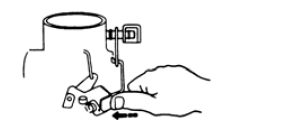 When two persons work together, pay attention to the mutual working safety.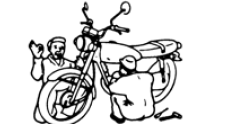 Disconnect the battery negative (-) terminal before operation.
When using a spanner or other tools, make sure not to damage the motorcycle surface.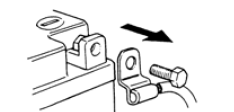 After operation, check all connecting points, fasteners, and lines for proper connection and installation.
When connecting the battery, the positive (+) terminal must be connected first.
After connection, apply grease to the battery terminals.
Terminal caps shall be installed securely.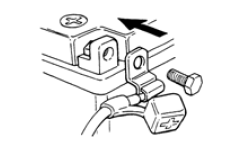 If the fuse is burned out, find the cause and repair it. Replace it with a new one according to the specified capacity.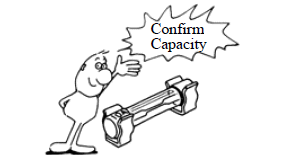 After operation, terminal caps shall be installed securely.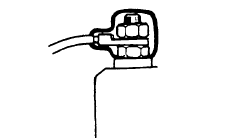 When taking out the connector, the lock on the connector shall be released before operation.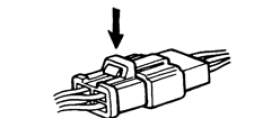 Hold the connector body when connecting or disconnecting it.
Do not pull the connector wire.

Check if any connector terminal is bending, protruding or loose.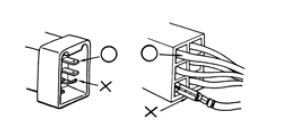 The connector shall be inserted completely.
If the double connector has a lock, lock it at the correct position.
Check if there is any loose wire.

Before connecting a terminal, check for damaged terminal cover or loose negative terminal.

Check the double connector cover for proper coverage and installation.

Insert the terminal completely.
Check the terminal cover for proper coverage.
Do not make the terminal cover opening face up.

Secure wire harnesses to the frame with their respective wire bands at the designated locations.

Tighten the bands so that only the insulated surfaces contact the wire harnesses.

After clamping, check each wire to make sure it is secure.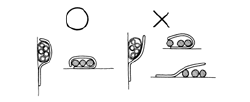 Do not squeeze wires against the weld or its clamp.

After clamping, check each harness to make sure that it is not interfering with any moving or sliding parts.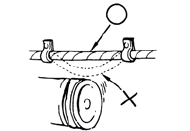 When fixing the wire harnesses, do not make it contact the parts which will generate high heat.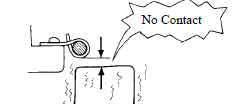 Route wire harnesses to avoid sharp edges or corners. Avoid the projected ends of bolts and screws.
Route wire harnesses passing through the side of bolts and screws. Avoid the projected ends of bolts and screws.

Route harnesses so they are neither pulled tight nor have excessive slack.

Protect wires and harnesses with electrical tape or tube if they contact a sharp edge or corner.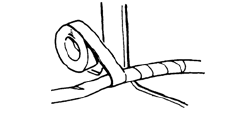 When rubber protecting cover is used to protect the wire harnesses, it shall be installed securely.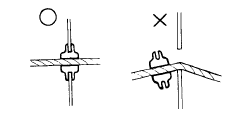 Do not break the sheath of wire.
If a wire or harness is with a broken sheath, repair by wrapping it with protective tape or replace it.

When installing other parts, do not press or squeeze the wires.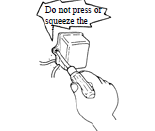 After routing, check that the wire harnesses are not twisted or kinked.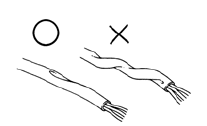 Wire harnesses routed along with handlebar should not be pulled tight, have excessive slack or interfere with adjacent or surrounding parts in all steering positions.

When a testing device is used, make sure to understand the operating methods thoroughly and operate according to the operating instructions.

Be careful not to drop any parts.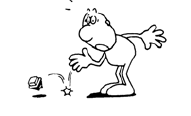 When rust is found on a terminal, remove the rust with sand paper or equivalent before connecting.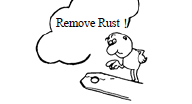 Symbols:
The following symbols represent the servicing methods and cautions included in this service manual.

: Apply engine oil to the specified points. (Use designated engine oil for lubrication.)

: Apply grease for lubrication.

: Transmission Gear Oil (90#)

: Note
TORQUE VALUES
STANDARD TORQUE VALUES

Torque specifications listed below are for important fasteners.
ENGINE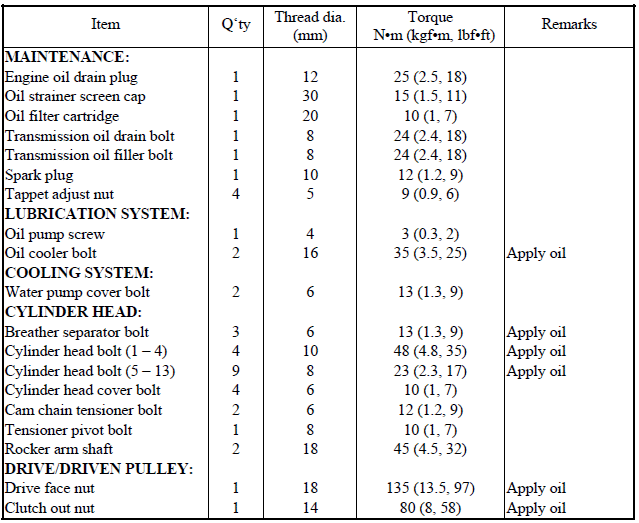 ENGINE (Cont'd)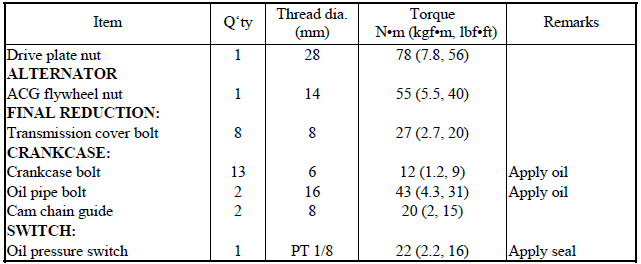 FRAME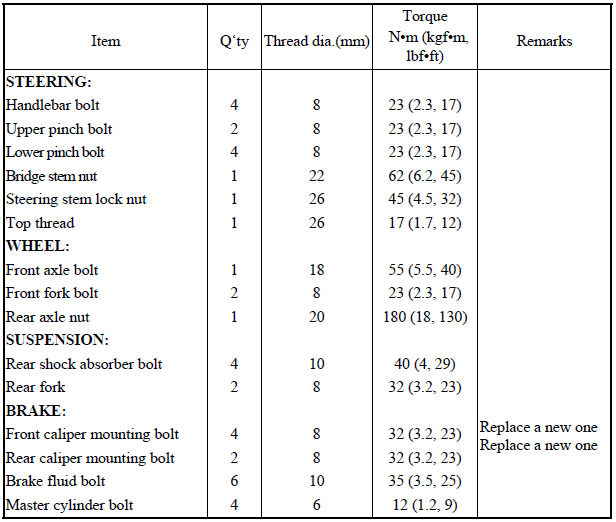 FRAME (Cont'd)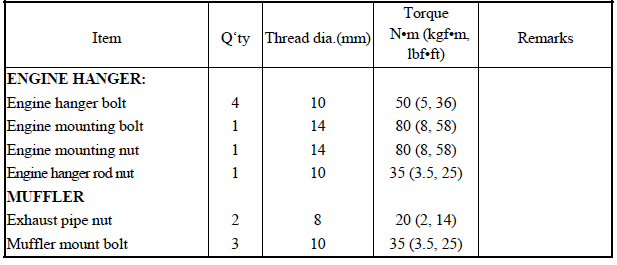 SPECIAL TOOLS

LUBRICATION POINTS
ENGINE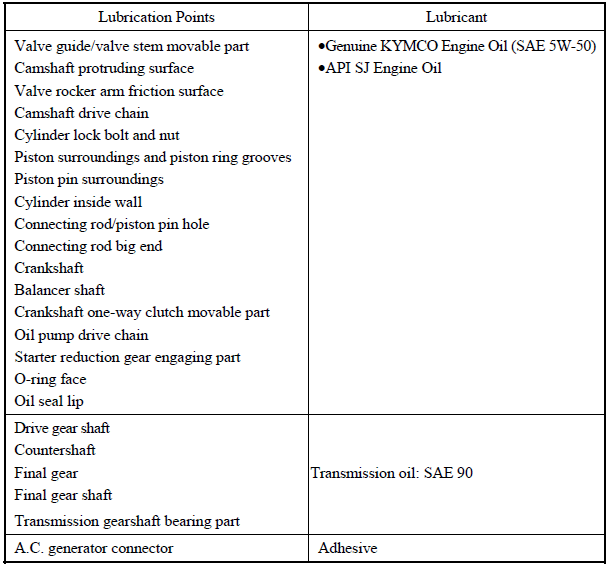 FRAME
The following is the lubrication points for the frame.
Use general purpose grease for parts not listed.
Apply clean engine oil or grease to cables and movable parts not specified. This will avoid abnormal noise and rise the durability of the motorcycle.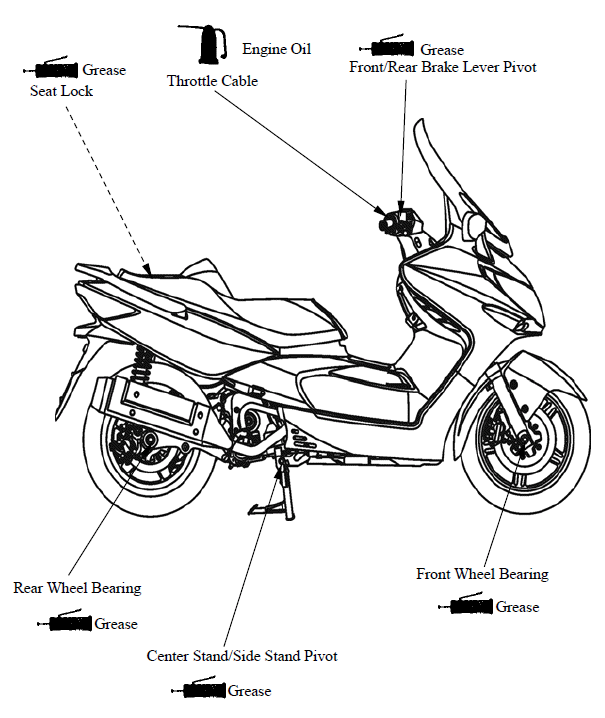 CABLE & HARNESS ROUTING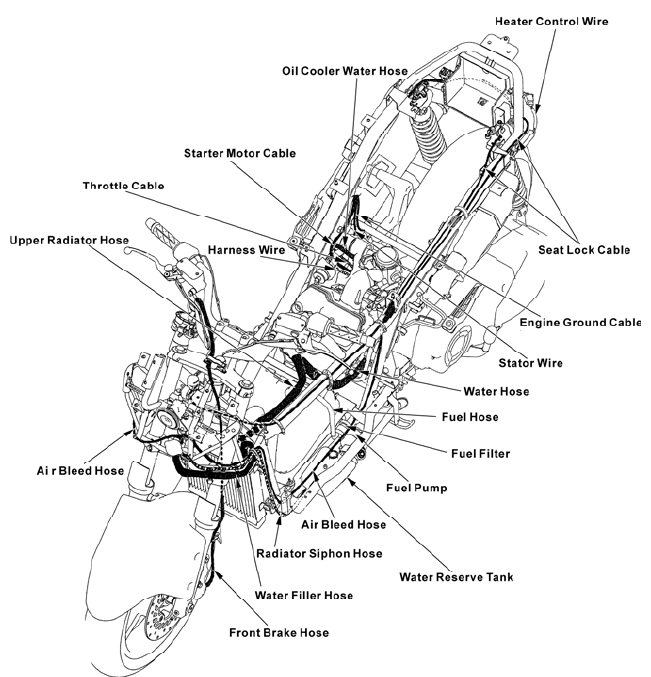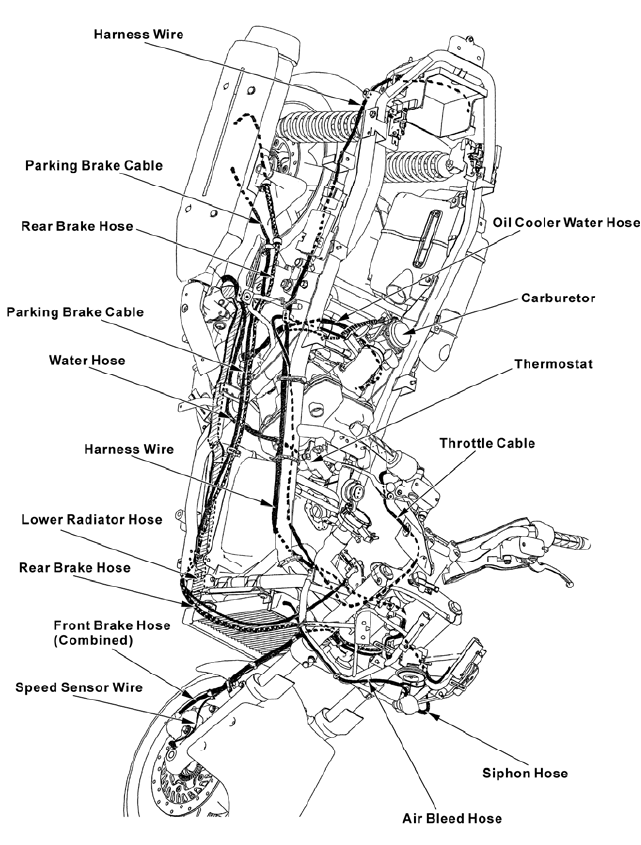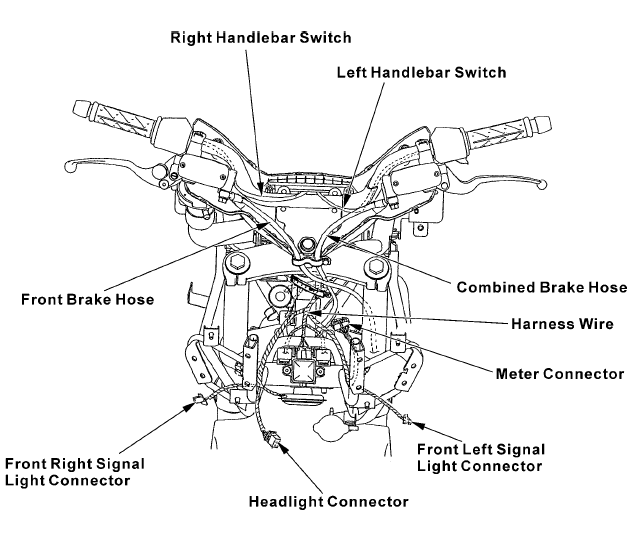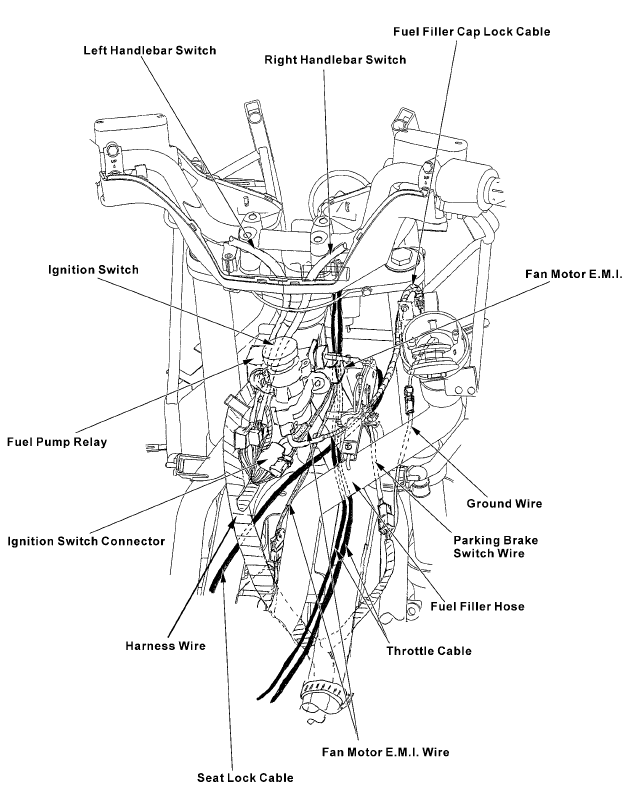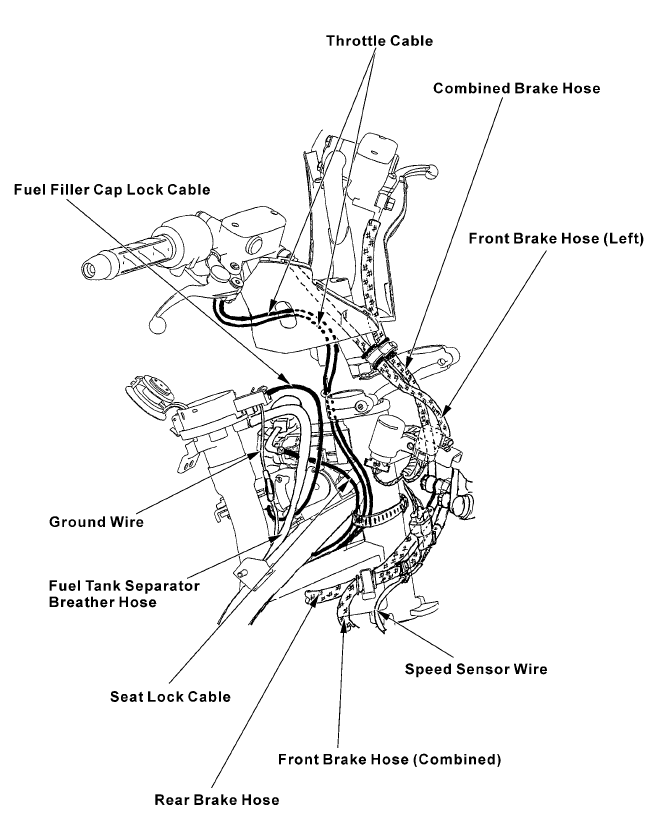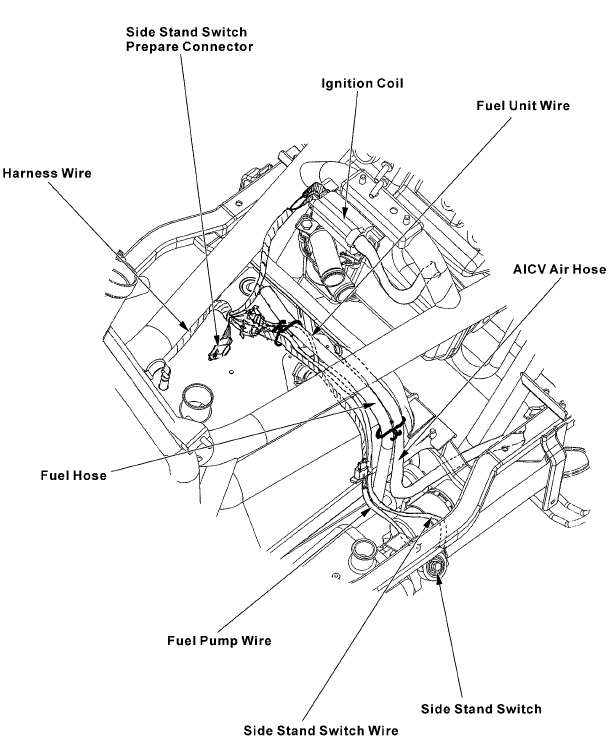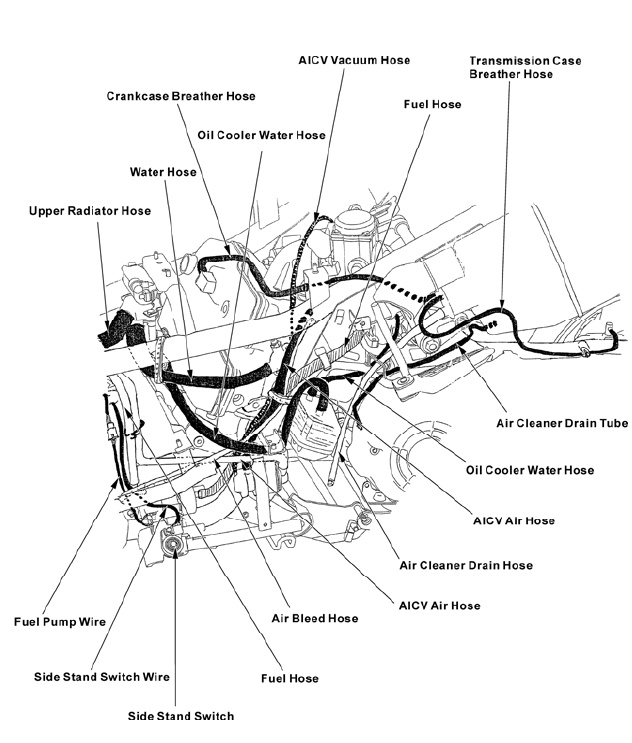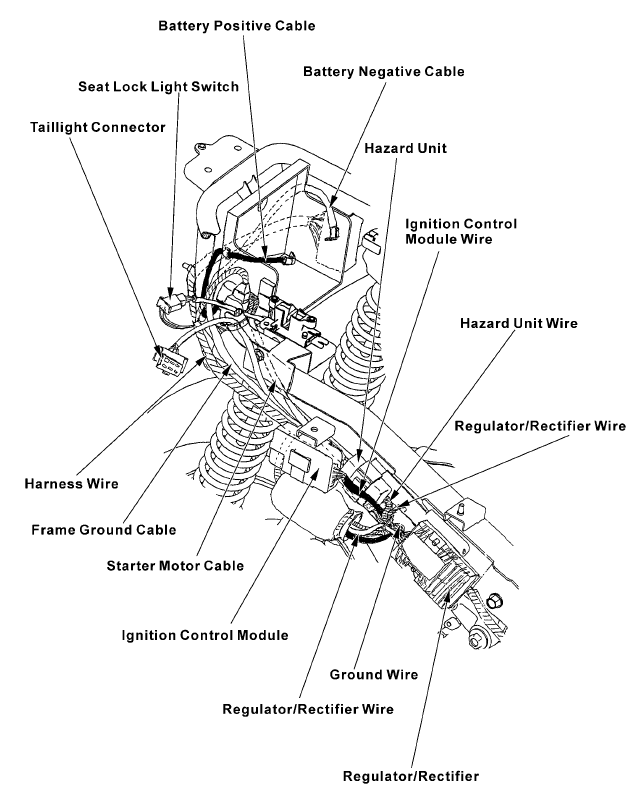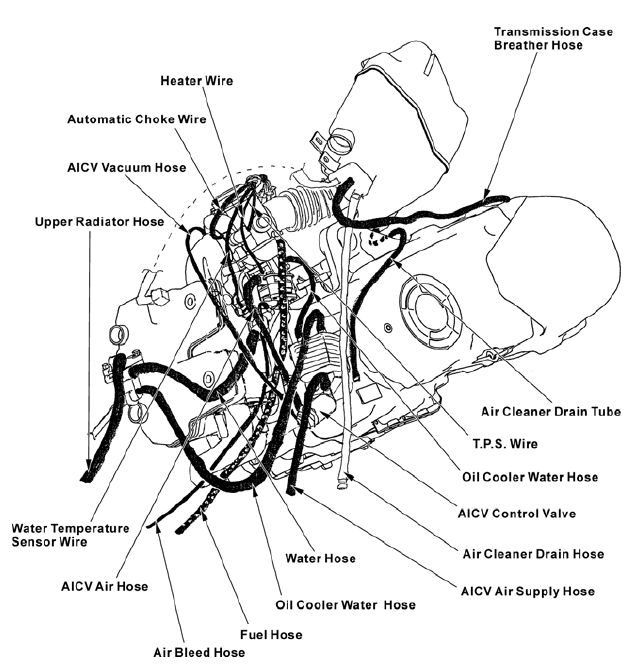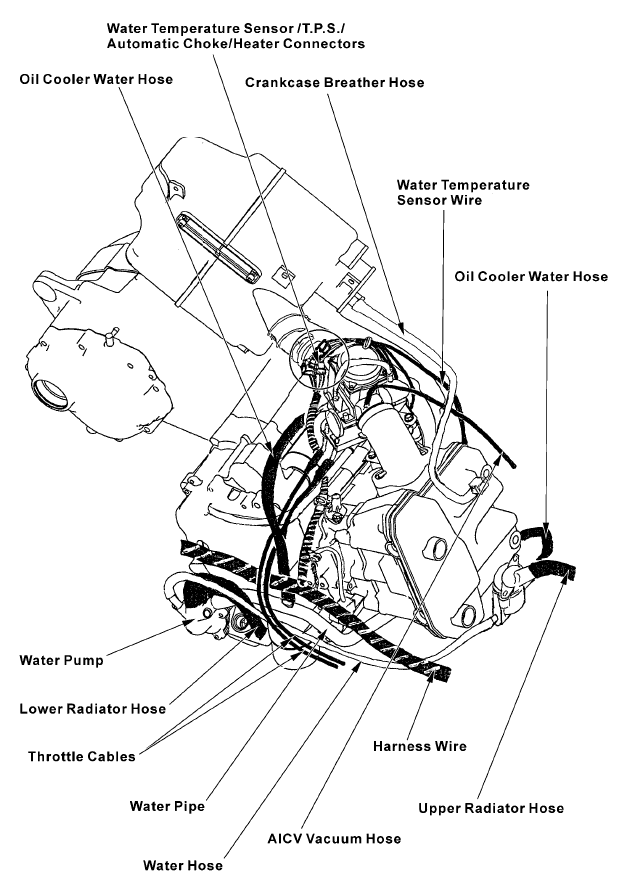 TROUBLESHOOTING
ENGINE WILL NOT START OR IS HARD TO START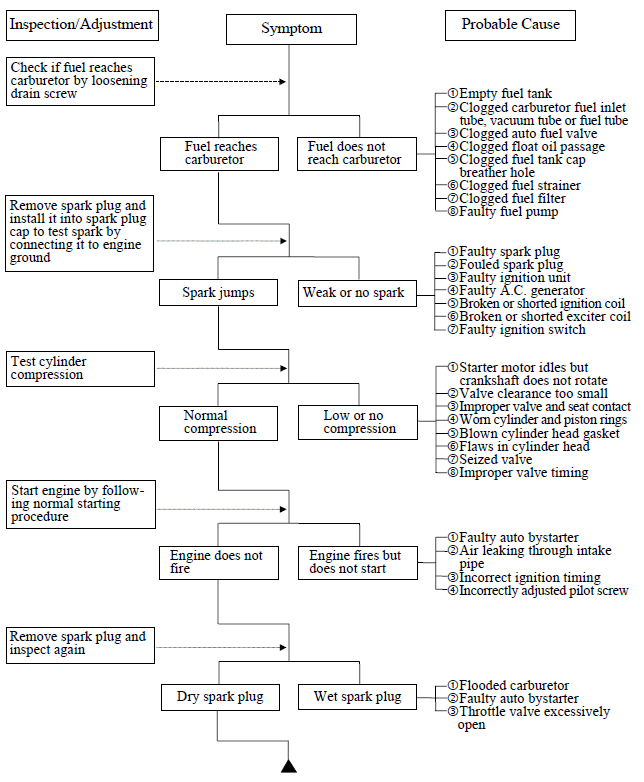 ENGINE LACKS POWER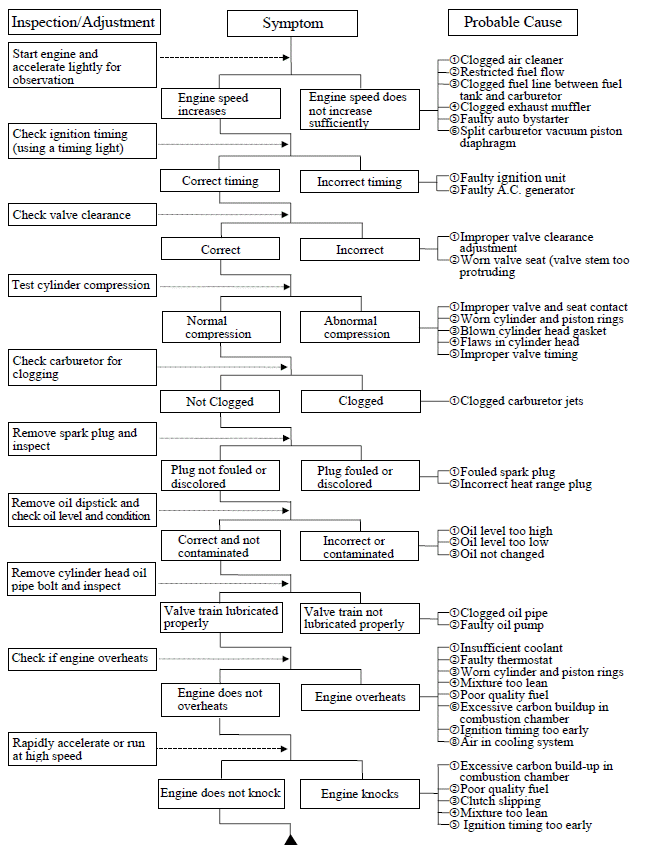 POOR PERFORMANCE (ESPECIALLY AT IDLE AND LOW SPEEDS)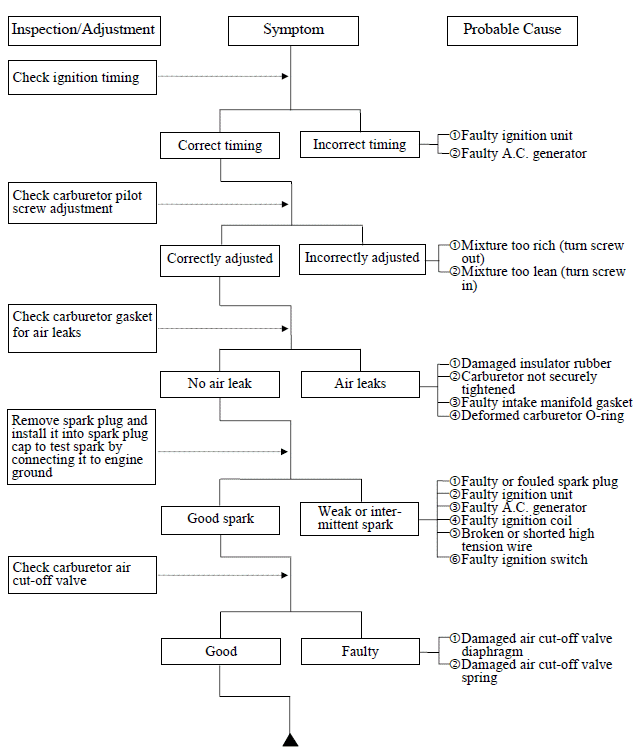 POOR PERFORMANCE (AT HIGH SPEED)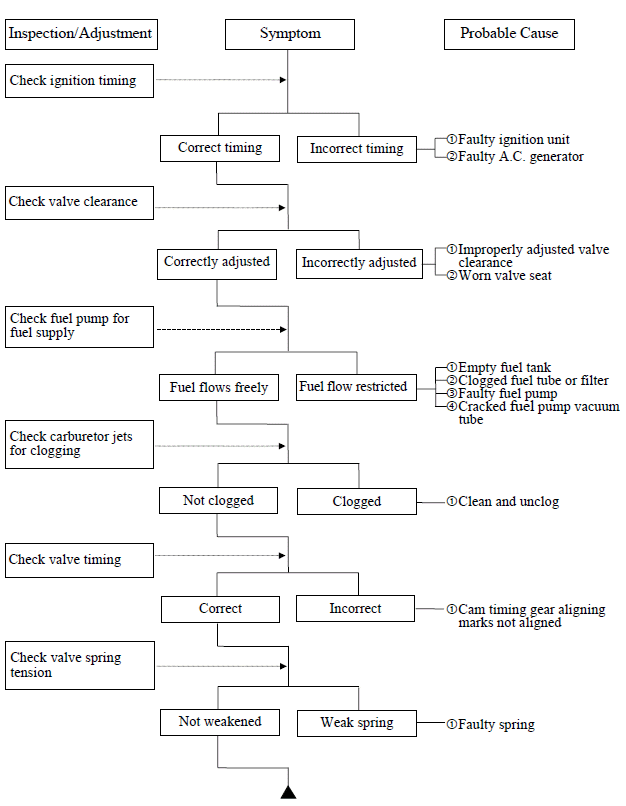 ENGINE NOISE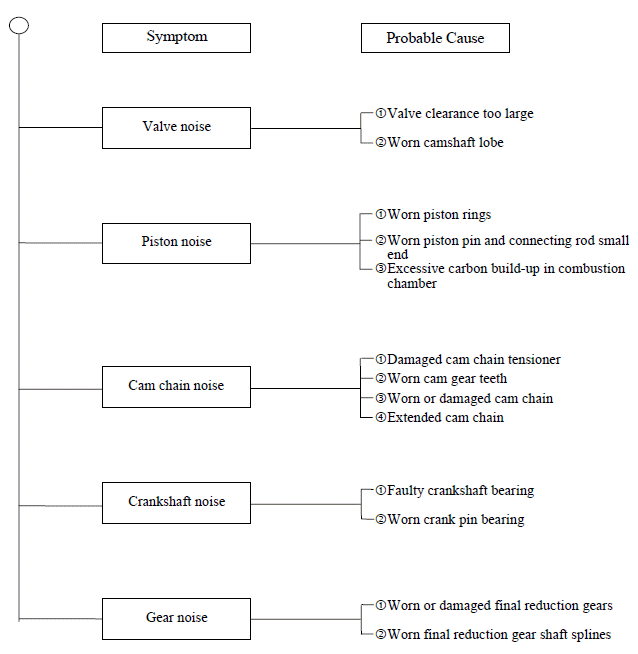 CLUTCH, DRIVE AND DRIVEN PULLEYS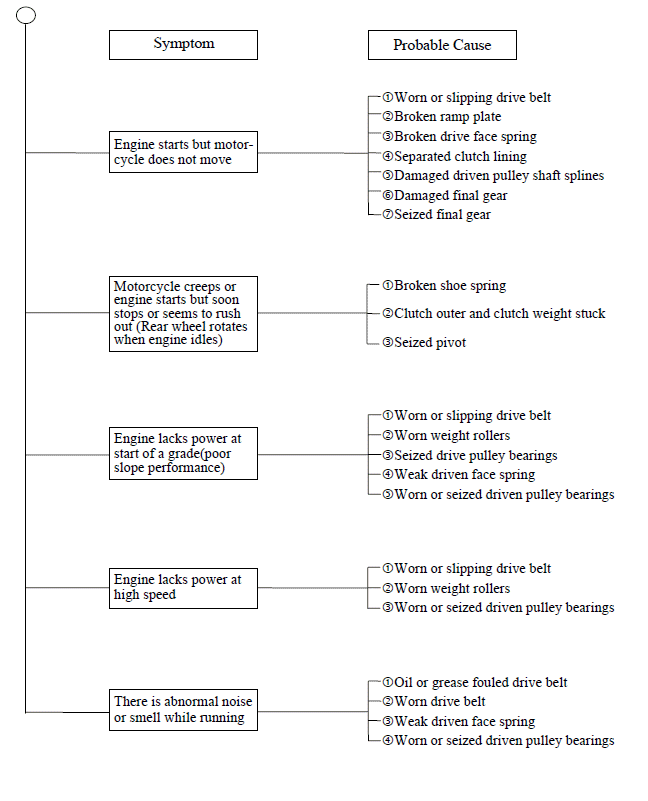 STARTER MOTOR
1. Starter motor won't turn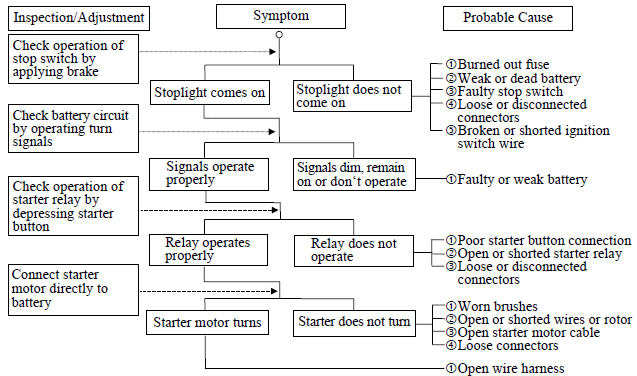 2. Starter motor turns slowly or idles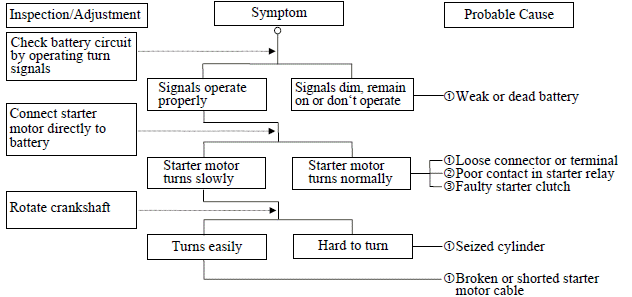 3. Starter motor does not stop turning

NO SPARK AT SPARK PLUG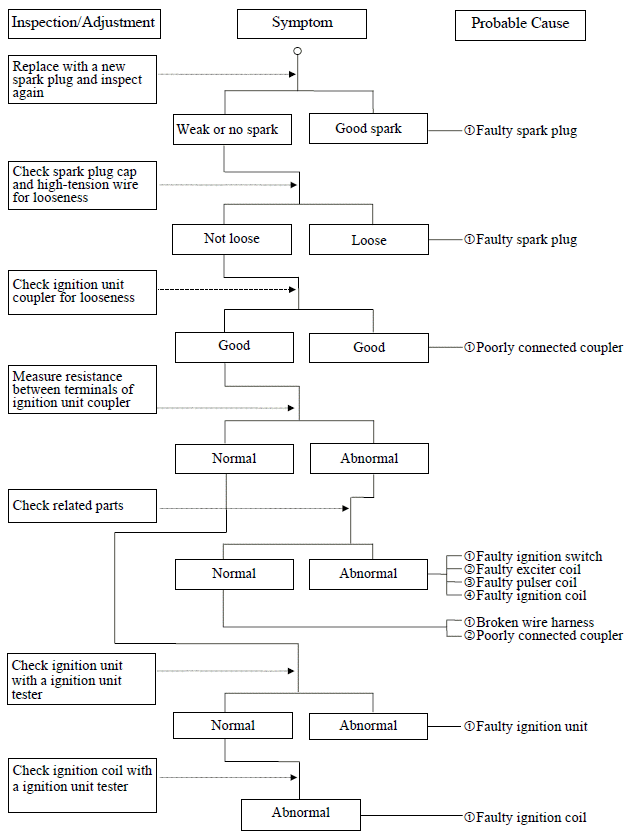 POOR CHARGING (BATTERY OVER DISCHARGING OR OVERCHARGING)
Undercharging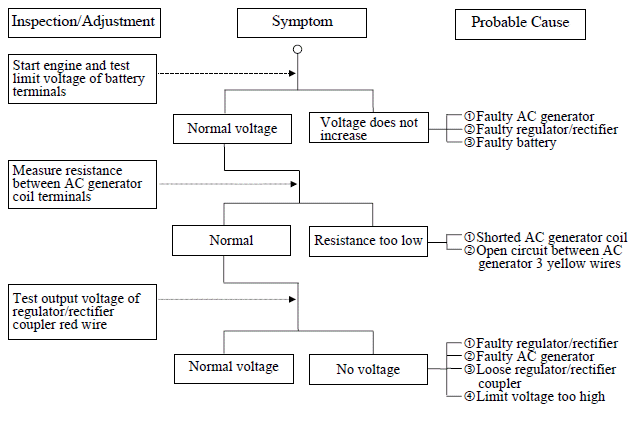 Overcharging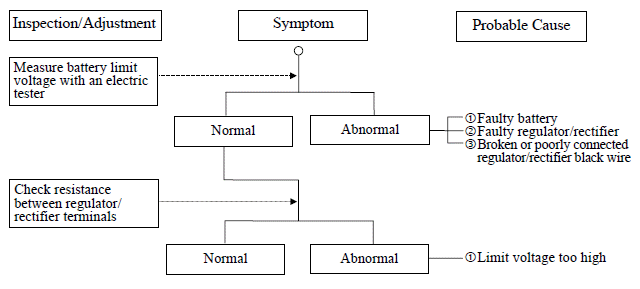 FUEL GAUGE
1. Pointer does not register correctly (Ignition switch ON)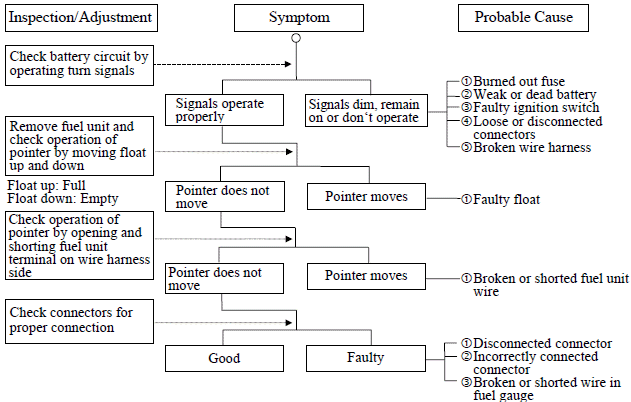 2. Pointer fluctuates or swings (Ignition switch ON)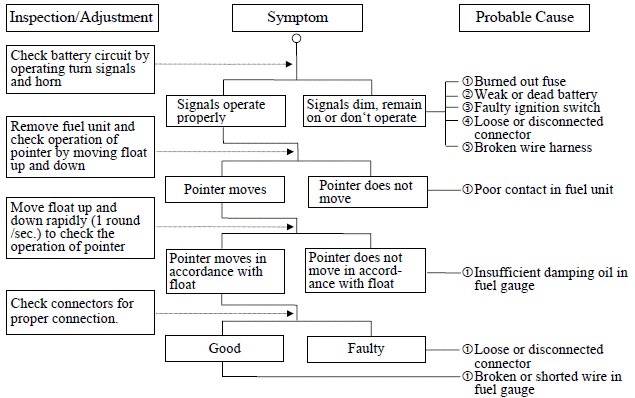 STEERING HANDLEBAR DOES NOT TRACK STRAIGHT

POOR SUSPENSION PERFORMANCE

POOR BRAKE PERFORMANCE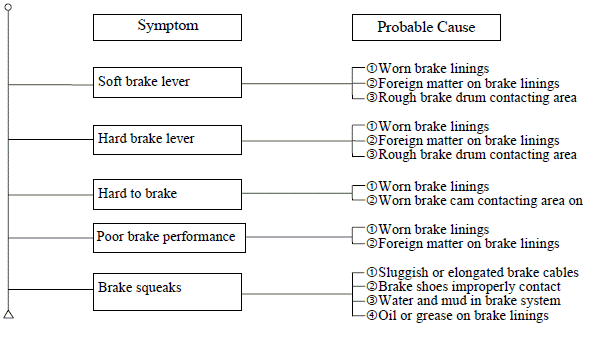 See also: