Except KO type
The following pages describe the label meanings. Some labels warn you of potential hazards that could cause serious injury. Others provide important safety information. Read this information carefully and don't remove the labels.
If a label comes off or becomes hard to read, contact your dealer for a replacement.
There is a specific symbol on each label.
The meanings of each symbol and label are as follows.

Read instructions contained in Owner's Manual carefully.

Read instructions contained in Shop Manual carefully. In the interest of safety, take the scooter to be serviced only by your dealer.

DANGER (with RED background)
You WILL be KILLED or SERIOUSLY HURT if you don't follow instructions.
WARNING (with ORANGE background)
You CAN be KILLED or SERIOUSLY HURT if you don't follow instructions.
CAUTION (with YELLOW background)
You CAN be HURT if you don't follow instructions.
BATTERY LABEL DANGER


Keep flame and spark away from the battery.

Battery produce explosive gas that can cause explosion.

Wear the eye protection and rubber gloves when handling the battery, or you can get burned or lose your eyesight by the battery electrolyte.

Do not allow children and other people to touch a battery unless they understand proper handling and hazards of the battery very well.

Handle the battery electrolyte with extreme care as it contains dilute sulfuric acid. Contact with your skin or eyes can burn you or cause loss of your eyesight.

Read this manual carefully and understand it before handling the battery. Neglect of the instructions can cause personal injury and damage to the scooter.

Do not use a battery with the electrolyte at or below the lower level mark. It can explode causing serious injury.
RADIATOR CAP LABEL DANGER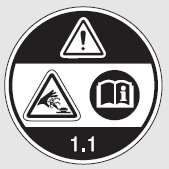 NEVER OPEN WHEN HOT.
Hot coolant will scald you.
Relief pressure valve begins to open at 1.1 kgf/cm2.
ACCESSORIES AND LOADING WARNING LABEL WARNING
ACCESSORIES AND LOADING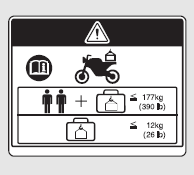 The safety stability and handling of this scooter may be affected by the addition of accessories and luggage.

Read carefully the instructions contained in user's manual and installation guide before installing any accessory.

The total weight of accessories and luggage added to rider's and passenger's weight should not exceed 177 kg (390 lb), which is the maximum weight capacity.

The luggage weight must not exceed 12 kg (26 lb) under any circumstances.

The fitting of large fork-mounted or large handlebar mounted fairing is not recommended.
TYRE INFORMATION LABEL
Cold tyre pressure:
[Driver only]
Front 175 kPa (1.75 kgf/cm2, 25 psi)
Rear 200 kPa (2.00 kgf/cm2, 29 psi)
[Driver and passenger]
Front 175 kPa (1.75 kgf/cm2, 25 psi)
Rear 225 kPa (2.25 kgf/cm2, 33 psi)
Tyre size:
Front 120/70-14M/C 55P
Rear 140/70-13M/C 61P
Tyre brand: DUNLOP
Front SCOOTSMART
Rear SCOOTSMART G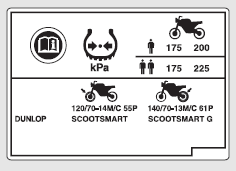 SAFETY REMINDER LABEL
For your protection, always wear helmet, protective apparel.
FUEL LABEL
Unleaded petrol only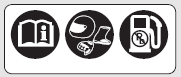 E, F, ED type
DAMPER LABEL
GAS FILLED
Do not open. Do not heat.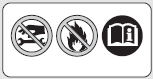 CARGO LIMIT LABEL
Do not exceed 10 kg (22 lb).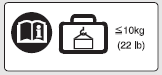 CARGO LIMIT LABEL
Do not exceed 1.5 kg (3.0 lb).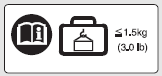 CARGO LIMIT LABEL
Do not exceed 0.5 kg (1.0 lb).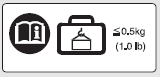 See also:
Follow these guidelines to enhance your safety: Perform all routine and regular inspections specified in this manual. Stop the engine and keep sparks and flame away before filling the fuel tank. Do not run the engine in enclosed or partly enclosed areas. Carbon monoxide in exhaust gases is toxic and can kill you.