The ABS/MBS features 3 distinctive functions:
1. Combined front and rear braking system controlled by the LH brake lever.
2. Braking assistance system provided on the front wheel.
3. Anti-locking system provided on the front wheel.
Before servicing the system, carry out a diagnosis using the diagnostic tool and print out a parameter report.
If fault codes appear, repair as required.
The diagnostic light of the system only goes off when the machine reaches 5 km/h.
The rider brakes with the left lever (integral braking), and the right lever (braking on the front wheel only) becomes an emergency brake.

For diagnosing the ABS/MBS system, see document: ABS/MBS braking system functioning principle. Reference: 759568.
Removal of the brake modulator
Remove the front shield panel. See: Procedure 8.
Remove the handlebar upper fairing. (8 screw)
Remove the mudguard.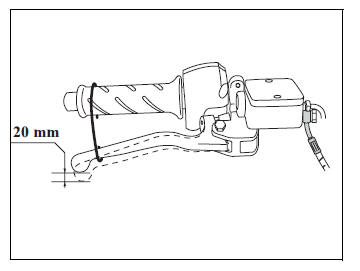 Plastic parts must be protected from brake fluid splashes.
Hold the brake levers at 20 mm from the rest position using plastic straps. This operation allows you to close the circuits and to avoid emptying the hydraulic controls when disconnecting the modulator.
Do not remove the master cylinder covers.
Disconnect the modulator.
Disconnect the hydraulic controls.
Remove the brake modulator. (2 nuts)

Place a pan under the modulator so that the brake fluid will drip into it.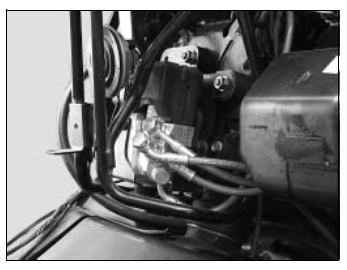 The modulator shall not be open, the manufacturer is the only one allowed to service this component.
Re-installing the modulator
Note: The modulator is already filled with brake fluid when delivered. In order not to lose any brake fluid when connecting the modulator, remove the caps and connect the hydraulic hoses one after the other.
Place the modulator in its support.
Tightening torque: 2.2 m.daN.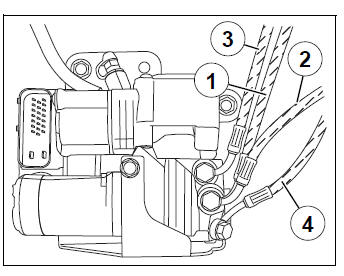 Position the hydraulic controls in the indicated order:

The hydraulic control coming from the LH master cylinder. (1)
The hydraulic control going to the rear brake calliper. (2). Place it over the hydraulic control. (1)
The hydraulic control coming from the RH master cylinder. (3)
The hydraulic control going to the front brake calliper. (4)
Tightening torque: 2.8 m.daN.
Note: Change the copper seals each time they are removed.
Connect the modulator.
Bleed the hydraulic system according to the required procedure.
See also:
Reminder: The rear brake hydraulic system is drained using the LH lever. The front brake hydraulic system is drained using the RH lever. The front and rear brake systems are drained the usual way. The brake assistance circuit is drained by actuating the modulator pump by means of the diagnostic tool.