PROTECTIVE APPAREL
For your safety, always wear an approved motorcycle or scooter helmet, eye protection, boots, gloves, long pants, and a longsleeved shirt or jacket whenever you ride your scooter.
Helmets and protection
Your helmet is your most important piece of riding gear because it offers the best protection against head injuries. Your helmet should fit your head comfortably and securely. Always wear a face shield or goggles to protect your eyes and to aid your vision.
Additional riding gear
In addition to a helmet and eye protection, you should also use:
Sturdy boots with nonslip soles to help protect your feet and ankles
Leather gloves to keep your hands warm and help prevent blisters, cuts, burns and bruises
A motorcycle or scooter riding suit or jacket that has been designed for comfort as well as protection. Bright colored and reflective clothing can help make you more noticeable in traffic. Be sure to avoid loose clothes that could get caught on any part of your scooter.

Not wearing a helmet increases your chance of serious injury or death in a crash.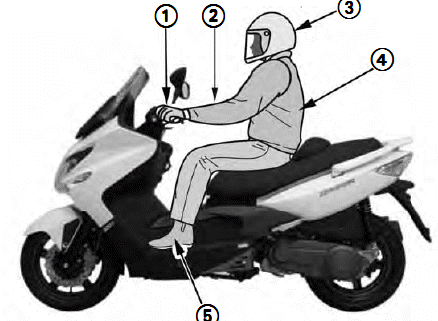 Wear gloves
Clothes should be fit properly (not too tight or loose)
Always wear a helmet. You should also wear eye protection
Wear bright or reflective clothing
Footwear should be the proper size, have low heels, and offer ankle protection

Be sure you and your passenger always wear an approved motorcycle helmet that fits properly. You should also wear eye protection and other protective apparel when you ride.
Load Limits & Guidelines
These general guidelines may help you decide how to add accessories to your scooter and how to load it properly.
Load limits
These specifications are the load limits for your Xciting scooter.
Overloading the individual storage compartments will affect the scooter's stability and handling, be sure to stay within the limits given below:
Maximum weight capacity
(Includes the weight of the rider, passenger, cargo and accessories): ...... 330 lbs (150 kg)
Maximum cargo weight:............................... 19 kg (42 Ibs)
Center small box weight limit: ................ 6.6 lbs (3 kg)
Center compartment weight Iimit: .......... 22 lbs (10 kg)
Rear carrier weight limit: .......................... 11 lbs (5 kg)
Front glove box weight limit: ............... 3.3 lbs (1.5 kg)

Overloading or improper loading will affect vehicle handling, stability and braking, and can lead to an accident.
Never exceed the stated load capacity of your scooter.
Cargo should be properly distributed and securely attached.
Reduce speed when carrying cargo. Allow greater distance for braking.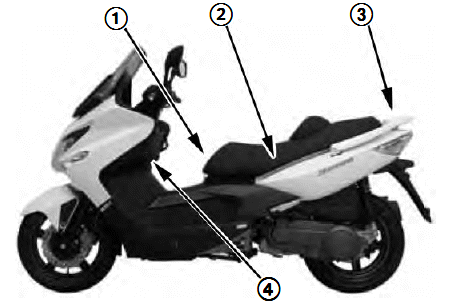 Loading guidelines
Improperly loading your scooter will affect its stability and handling.
You should ride at reduced speeds when you are carrying a passenger or cargo. Follow these guidelines whenever you carry a passenger or cargo:
Check that both tires are properly inflated
To prevent loose items from creating a hazard, make sure all cargo is securely tied down before you ride
Place cargo weight as close to the center of the scooter as possible
Balance cargo weight evenly on both sides of the scooter
Accessories & Modifications
There is a large variety of accessories available to KYMCO scooter owners. KYMCO cannot have direct control over the quality or suitability of accessories you may wish to purchase.
The addition of unsuitable accessories to your scooter can lead to unsafe operating conditions. It is not possible for KYMCO to test each accessory on the market or combinations of all the available accessories; however, your KYMCO dealer can assist you in selecting quality accessories and then install them correctly.
Use extreme caution when selecting and installing the accessories for your scooter.
No modifications
KYMCO strongly advises you against removing any original equipment or modifying your scooter in any way that would change its design or operation.

Improper accessories or modifications can make your scooter unsafe and can lead to an accident.
Never modify your scooter through the improper installation or use of accessories. All parts and accessories added to this vehicle should be genuine KYMCO or equivalent components designed for use on this scooter and should be installed and used according to instruction. If you have any questions, consult an authorized KYMCO dealer.
See also:
Thank you for purchasing this KYMCO Xciting scooter, and welcome to the KYMCO riding family. Please read this owner's manual carefully before riding so that you will be thoroughly familiar with the proper operation of your scooter controls, its features, capabilities, and limitations.
Your KYMCO Xciting scooter comes equipped with several labels and hangtags containing important safety information. Anyone who rides the scooter should read and understand this information before operation. The labels should be considered permanent parts of the vehicle. If a label comes off or becomes hard to read, contact your KYMCO dealer immediately for a replacement.