Technical data
Troubleshooting chart
Engine does not start at all or is very difficult to start.

Bluetooth connection is not established.

Bluetooth connection is disrupted.

Phone book is not displayed in the TFT display.

Active route guidance is not displayed in the TFT display.

ASC intervenes without it being necessary, too often or too early.

Screw connections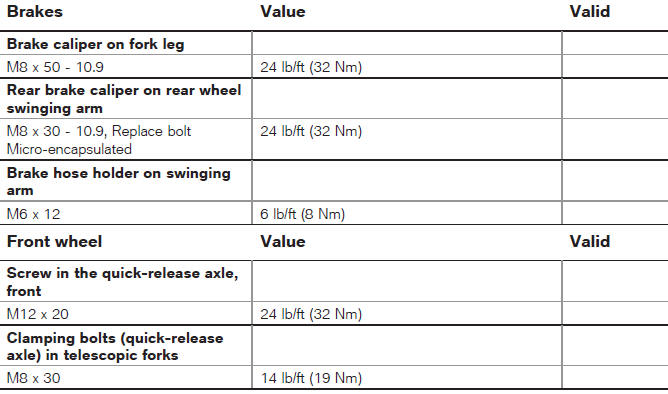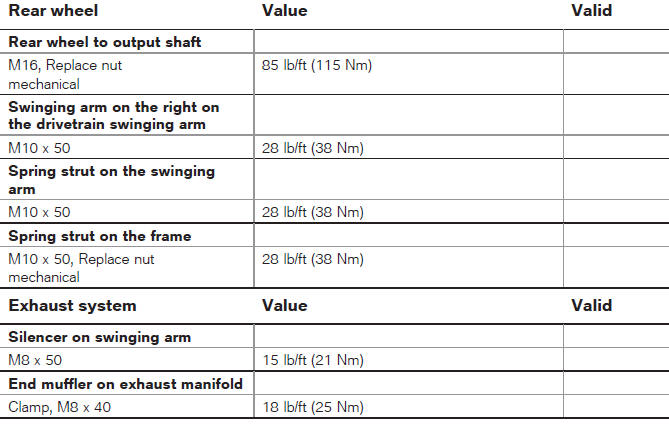 Fuel

Engine oil


Engine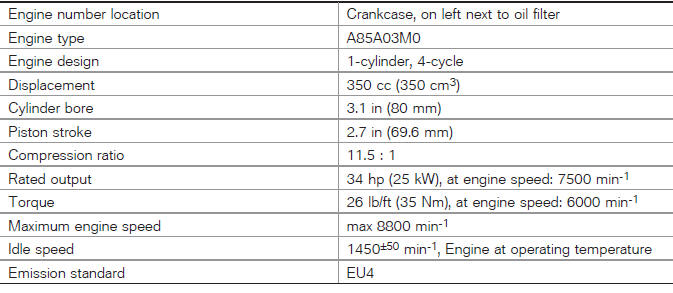 Clutch

Transmission

Rear-wheel drive
Frame

Chassis and suspension

Brakes
Front wheel

Rear wheel

Wheels and tires

Front wheel

Rear wheel

Tire pressure

Electrical system

Battery

Spark plugs

Light sources

Fuses

Alarm system
with anti-theft alarm system (DWA) OE

Keyless Ride

Dimensions

Weights

Performance data

Service
Reporting safety defects
If you think that your motorcycle has a fault which may cause an accident, injury or death, you must inform the NHTSA (National Highway Traffic Safety Administration) immediately and BMW of North America, LLC.
If the NHTSA receives other similar complaints, it may open an investigation. If it finds that a safety defect exists in a group of vehicles, the NHTSA may order the manufacturer to perform a recall and remedy campaign. However, the NHTSA cannot become involved in individual problems between you, your authorized BMW Motorrad retailer, or BMW of North America, LLC.
You can contact the NHTSA by calling the Vehicle Safety Hotline on 1-888-327-4236 (Teletypewriter TTY for the hearing impaired: 1-800-424-9153) for free, by visiting the website at http:⁄⁄ www.safercar.gov or by writing to Administrator, NHTSA, 400 Seventh Street, SW., Washington, DC 20590. Further information on vehicle safety is available at http:⁄⁄ www.safercar.gov.
BMW Motorrad Service
With its worldwide retailer network, BMW Motorrad can attend to you and your Scooter in over 100 countries around the globe. The BMW Motorrad retailers have the technical information and expertise needed to conduct reliable maintenance and repairs covering every aspect of your BMW Scooter.
You will find the nearest authorized BMW Motorrad retailer to you at our website: bmw-motorrad.com
WARNING Improperly performed maintenance and repair work
Risk of accident as a result of damage
BMW Motorrad recommends having corresponding work on your Scooter carried out by a specialist workshop, preferably by an authorized BMW Motorrad retailer.
To ensure that your BMW Scooter consistently remains in optimal condition, BMW Motorrad urges you to observe the service intervals recommended for your Scooter.
Have all maintenance and repair work confirmed in the "Service" chapter in this manual. Documentation confirming regular maintenance is essential for generous treatment of claims submitted after the warranty period has expired (goodwill).
You can obtain information on the contents of the BMW Services from your BMW Motorrad retailer.
BMW Motorrad Mobility Services
The BMW Motorrad Mobility Services furnish you and your new BMW motorcycle with extra security by offering a wide array of assistance services in the event of a breakdown (BMW Roadside Assistance, breakdown assistance, vehicle recovery and retrieval, etc.).
Contact your authorized BMW Motorrad retailer for additional information on available mobility services.
Maintenance procedures
BMW pre-delivery check
The BMW pre-delivery check is carried out by your authorized BMW Motorrad retailer before it turns the motorcycle over to you.
BMW Running-in Check
The BMW running-in check must be carried out between 300 mls (500 km) and 750 mls (1200 km).
BMW Service
BMW service is carried out once a year. The scope of the services performed may be dependent on the motorcycle owner and the mileage driven. Your BMW Motorrad retailer confirms that the service has been performed and enters the date for the next service.
For riders who drive long distances annually, it may be necessary to come in for service before the entered date. In this case a corresponding maximum odometer reading will also be entered in the confirmation of service. If this odometer reading is reached before the next service date, service must be performed sooner.
The required scope of maintenance work for your motorcycle can be found in the following maintenance plan: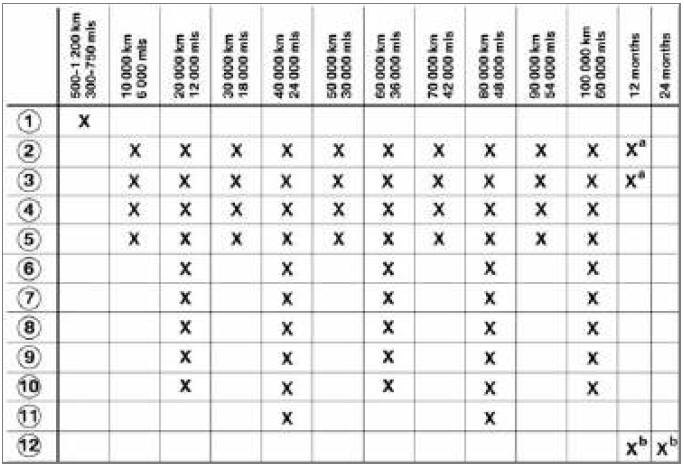 Maintenance schedule
BMW Running-in check (including oil change)
BMW Service Standard Scope
Engine oil change with filter
Clean/check filter for CVT
Replace air cleaner insert
Replace CVT belt with rollers, check sliding blocks and replace if necessary
Replace all spark plugs
Check valve clearance
Replace fixture for rubber mount
Telescopic fork oil change
Checking the clutch (clutch removed)
Change brake fluid in entire system
annually or every 6000 miles (10000 km) (whichever comes first)
for the first time after one year, then every two years
Maintenance confirmations
BMW Service standard scope
The repair procedures belonging to the BMW Service standard package are listed below. The actual maintenance work applicable for your vehicle may differ.
Checking charging state of battery
Performing the vehicle test using the BMW Motorrad diagnosis system
Visually inspect the brake lines, brake hoses and connections
Checking the front/rear brake fluid level
Checking front brake pads and brake disks for wear
Checking the rear brake pads and brake disk for wear
Checking steering-head bearing
Checking the coolant level
Checking the throttle cable for play
Checking the tire pressure and tread depth
Checking the lighting and signal system
Functional check for engine starting suppression
Final inspection and road safety check
Setting the service due date and remaining distance
Confirm the BMW service in the vehicle literature
See also:
Care products BMW Motorrad recommends that you use cleaning and care products available at your authorized BMW Motorrad retailer. BMW CareProducts have been materials tested, laboratory tested, and field tested and provide optimum care and protection for the materials used in your motorcycle.