RADIATOR CAP INSPECTION
Remove the radiator cap.
Pressure test the radiator cap.
Replace the radiator cap if it does not hold pressure, or if relief pressure is too high or too low.
It must hold the specified pressure for at least six seconds.
Before installing the cap in the tester, wet the sealing surfface.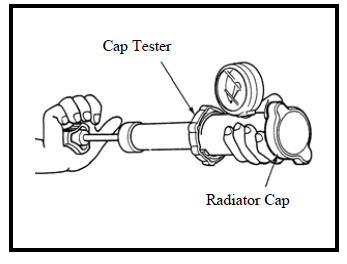 Radiator Cap Relief Pressure: 108 kPa (1.1 kg/cm², 16 psi)
Pressurize the radiator, engine and hoses, and check for leaks.
Excessive pressure can damage the cooling system components. Do not exceed 137 kPa (1.4 kg/cm², 20 psi).
Repair or replace components if the system will not hold the specified pressure for at least six seconds.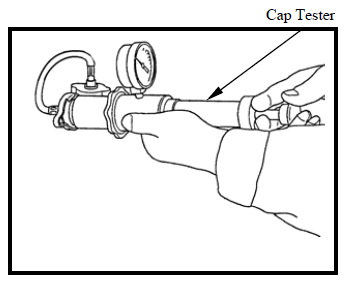 COOLANT REPLACEMENT
PREPARATION
The effectiveness of coolant decreases with the accumulation of rest or if there is a change in the mixing proportion during usage. Therefore, for best performance change the coolant regularly as specified in he maintenance schedule.
Mix only distilled, low mineral water with the antifreeze.
Recommended mixture: 1:1 (Distilled water and antifreeze)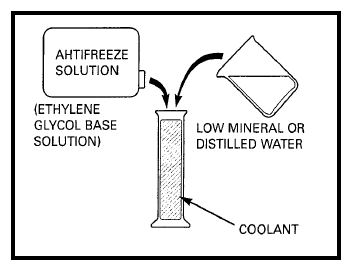 REPLACEMENT/AIR BLEEDING
Remove the front cover.
Remove the front lower cover.
When filling the system or reserve tank with coolant (checking the coolant level), place the scooter in a vertical position on a flat, level surface.
Remove the radiator cap.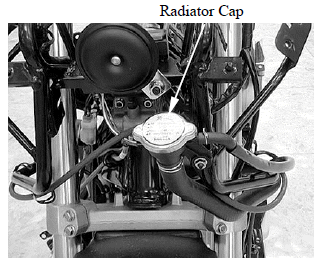 Disconnect the water lower hose and drain the coolant from the system.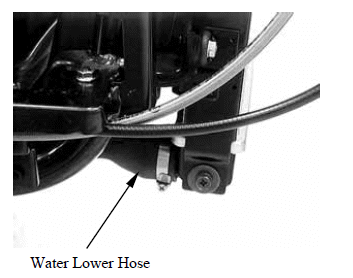 Remove the floor mat.
Remove the screw and reserve tank lid.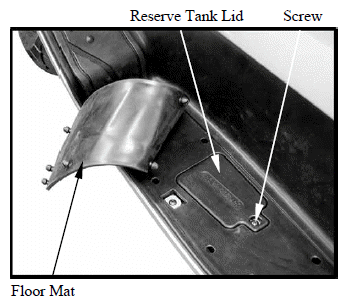 Remove the reserve tank cap and drain the coolant from the reserve tank.
Reconnect the water lower hose securely.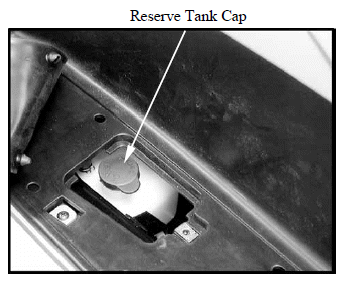 Place the scooter on its center stand on a flat, level surface.
Fill the reserve tank to the upper level line.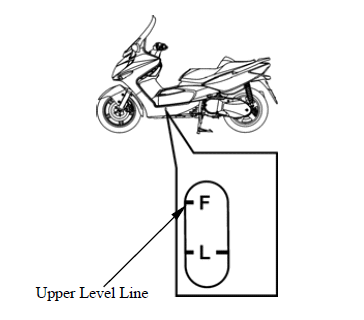 Fill the system with the recommended coolant through the filler opening up to the filler neck.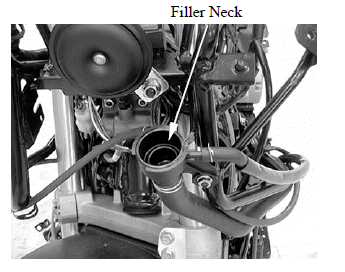 Bleed air from the system as follow:
1. Start the engine and let it idle for 2−3 minutes.
2. Snap the throttle three to four times to bleed air from the system.
3. Stop the engine and add coolant to the proper level if necessary. Reinstall the radiator cap.
4. Check the level of coolant in the reserve tank and fill to the upper level if it is low.
See also:
SYSTEM FLOW PATTERN SERVICE INFORMATION
REMOVAL Remove the floorboard. Remove the ignition coil. Remove the nut and thermostat housing stay from the frame.