SYSTEM FLOW PATTERN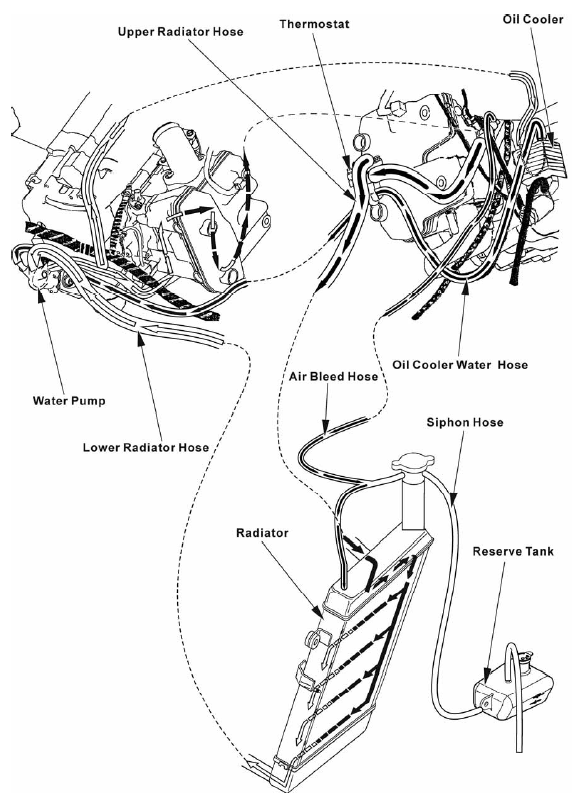 SERVICE INFORMATION
GENERAL INSTRUCTIONS
WARNING: Removing the radiator cap while the engine is hot can allow the coolant to spray out, seriously scalding you. Always let the engine and radiator cool down before removing the radiator cap.
CAUTION: Radiator coolant is toxic. Keep it away from eyes, mouth, skin and clothes.
If any coolant gets in your eyes, rinse them with water and consult a physician immediately.
If any coolant in swallowed, induce vomiting, gargle and consult a physician immediately.
If any coolant gets on your skin or clothes, rinse thoroughly with plenty of water.
NOTE: Use coolant with silicate inhibitors may cause premature wear of water pump seals or blockage of radiator passages. Using tap water may cause engine damage.
This section covers service of the cooling system.
These services can be done with the engine installed in the frame.
Add coolant at the reserve tank. Do not remove the radiator cap except to refill or drain the system.
All cooling system services can be done with the engine in the frame.
Avoid spilling coolant on painted surfaces.
After servicing the system, check for leaks with a cooling system tester.
SPECIFICATIONS

COOLANT GRAVITY CHART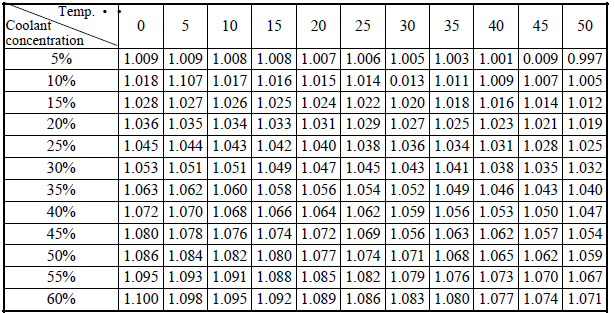 COOLANT MIXTURE (WITH ANTI-RUST AND ANTI-FREEZING EFFECTS)

Cautions for Using Coolant:
Use coolant of specified mixing rate. (The mixing rate of 425cc KYMCO SIGMA coolant concentrate + 975cc distilled water is 30%.)
Do not mix coolant concentrate of different brands.
Do not drink the coolant which is poisonous.
The freezing point of coolant mixture shall be 5 lower than the freezing point of the riding area.
TORQUE VALUES
Water pump cover bolt 13 N*m (1.3 kgf*m, 9 lbf*ft)
Fan motor bolt 5 N*m (0.53 kgf*m, 3.8 lbf*ft)
Radiator shroud mounting nut 9 N*m (0.9 kgf*m, 6.5 lbf*ft)
TROUBLESHOOTING
Engine temperature too high
Faulty radiator cap
Faulty temperature gauge or thermosensor
Air in system
Thermostat stuck closed
Insufficient coolant
Passages blocked in radiator, hoses or water jacket
Faulty cooling fan motor
Faulty fan motor switch
Faulty water pump
Engine temperature too low
Faulty temperature gauge or thermosensor
Thermostat stuck open
Faulty fan motor switch
Coolant leak
Faulty water pump mechanical seal
Deteriorated O-rings
Faulty radiator cap
Damaged or deteriorated cylinder head gasket
Loose hose connection or clamp
Damaged or deteriorated hoses
See also:
RADIATOR CAP INSPECTION Remove the radiator cap. Pressure test the radiator cap. Replace the radiator cap if it does not hold pressure, or if relief pressure is too high or too low.