Valve Clearance Inspection
NOTICE If valve clearance is left unadjusted, the wear will eventually cause the valves to remain partly open, which lowers performance, burns the valves and the valve seats, and may cause serious engine damage.
NOTE
Valve clearance must be checked when the engine is cold (at room temperature).
Remove:
Cylinder Head Cover (see Cylinder Head Cover Removal in the Engine Top End chapter)
Timing Inspection Cap [A]
Alternator Cover Center Cap [B]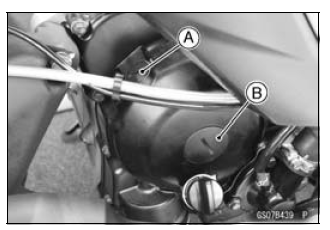 Turn the crankshaft clockwise, and align the "T" mark [A] on the alternator rotor with the groove [B] on the alternator cover.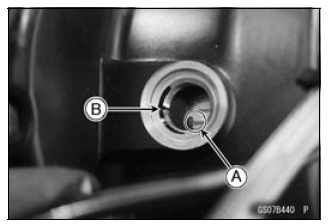 Check that the projection [A] and lines [B] on the camshaft sprocket is in position. This shows that the piston TDC is at the end of the compression stroke.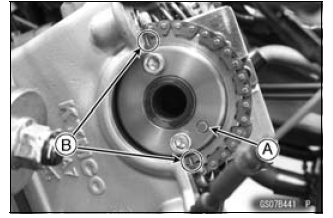 Using a thickness gauge [A], measure the valve clearance between the adjusting screw and valve stem.

Measure the both valves at a time.
Valve Clearance
Standard:
Exhaust 0.10 mm (0.0039 in.)
Intake 0.10 mm (0.0039 in.)
If the valve clearance is not within the specified range, adjust it.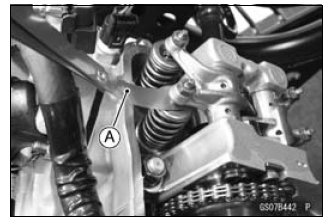 Valve Clearance Adjustment
Loosen the valve adjusting screw locknut [A] and insert the thickness gauge [B] between the valve and adjusting screw [C], and turn the screw until the adjusting screw stops.
Tighten the valve adjusting screw locknut.
Special Tool - Valve Adjusting Screw Holder [D]: 57001-1217
Torque - Valve Adjusting Screw Locknut: 8.8 N*m (0.90 kgf*m, 79 in*lb)
Install the removed parts (see appropriate chapters).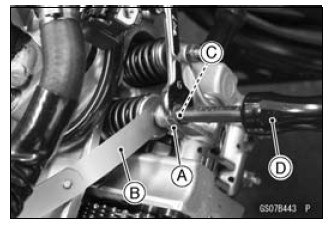 Clutch
Clutch Shoe Wear Inspection
Remove the clutch outer (see Clutch/Driven Pulley Removal in the Converter System chapter).
Check the clutch shoes for damage.

If there is any damaged part, replace it.

Measure the clutch lining thickness [A].

If the lining thickness is worn over the service limit, replace the clutch shoe.
Clutch Lining Thickness
Standard: 4.0 mm (0.16 in.)
Service Limit: 2.0 mm (0.08 in.)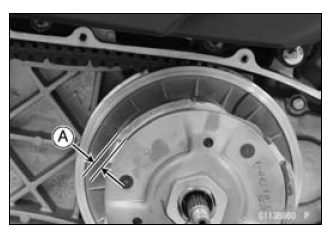 See also:
Coolant Level Inspection NOTE Check the level when the engine is cold (room or ambient temperature). Check the coolant level in the reserve tank [A] with the motorcycle held perpendicular (Do not use the side stand).