Accessory socket
A power socket, 12 V-120 W maximum, is fitted on the left side of the glove box. (1)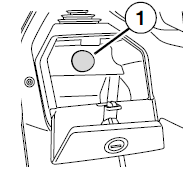 It can be used to connect low-voltage devices (mobile phone, GPS, etc.). This socket is powered by the battery; as a result, the accessory plugged in must be disconnected when the engine is off to avoid discharging the battery. This socket may also be used to recharge the battery using a maintenance charger.
Saddle remote control 1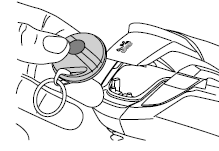 The remote control allows you to open the saddle from a distance.
It is powered by 2 Lithium CR 1220 3V batteries.
Handlebar glove box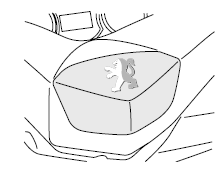 The handlebar glove box is opened and closed by simply pressing on it.
Saddle cover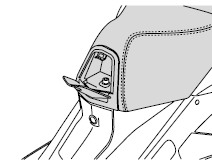 The saddle cover is fastened in its housing at the front of the seat.
It is used to cover and protect the driver and passenger saddles.
CHECKS TO PERFORM BEFORE USE
The user must personally ensure that his vehicle is in good condition. Certain safety elements may show signs of damage even when the vehicle is not used. e.g. prologned exposure to bad weather can lead to oxidation in the braking system or a pressure drop in the tyres which can have serious consequences. In addition to a simple visual inspection, it is extremely important to check the following points before use.

The se checks only take a few minutes an d help to keep your vehicle in good condition, for optimum use combining reliability and safety.
If one if the elements in the checklist does not work properly, ask your registered dealer to check it and have it repaired if necessary before using the vehicle.
See also:
The engine is off. Power to the electrical circuit is off. The key can be removed. The headlight stays on for 3 seconds after the ignition is switched off with the vehicle stopped. Power to the electrical circuit is on. The engine can be started. The parking lights are on. The key cannot be removed. Power to the electrical circuit is on. The saddle is unlocked.
Check the fuel level. Check the level of the engine oil. Check that the brake levers are working and moving properly. Check operation of the lights, flashers, horn, and brake light. Check the tyre wear and condition. Check the tyre pressure. Check that the throttle is working properly. Check that the central and side stands can be unfolded smoothly. Check that the rear-view mirrors are in the correct position. Check that the dashboard is working correctly and that no warning lights are lit. If they don't work, have the system checked by a registered dealer.