NOTICE
After riding on the normal road, the unpaved road and in the rainy weather, clean off any dirt (grit, mud or insect etc.) that stuck to inner tube before it hardens. If the motorcycle keeps running with the dirt stuck to the inner tube, the oil seal will be damaged and it causes the oil leak.
Rear Shock Absorber
Spring Preload Adjustment
The spring preload adjuster on the rear shock absorber has 5 positions.
Standard
3rd position
WARNING
Improper shock absorber adjustment can cause poor handling and loss of stability, which could lead to an accident. Always adjust the shock absorbers on the left and right side to the same setting.
Turn the preload adjuster with the wrench from the tool kit.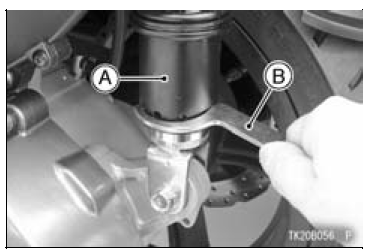 Spring Preload Adjuster
Wrench
Align the mark with the position number.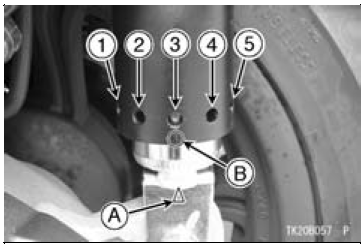 Mark
Position Number
NOTICE
Always adjust the spring preload adjuster in sequence (1 → 2 → 3 → 4 → 5 or 5 → 4 → 3 → 2 → 1).
Attempting to adjust directly from 1 to 5 or 5 to 1 may damage the shock absorber.
See also:
Rear Shock Absorber Spring Preload Setting Wheels