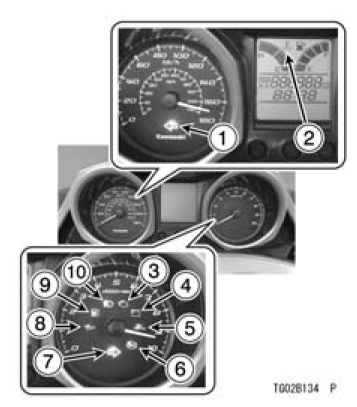 Left Turn Signal Indicator (Green)
Coolant Temperature Indicator
Engine Warning Indicator (Yellow)
Battery Warning Indicator (Red)
Oil Service Indicator (Yellow)
ABS Indicator (Yellow)
Right Turn Signal Indicator (Green)
Oil Pressure Warning Indicator (Red)
Fuel Level Warning Indicator (Amber)
High Beam Indicator (Blue)
Indicator Initial Operation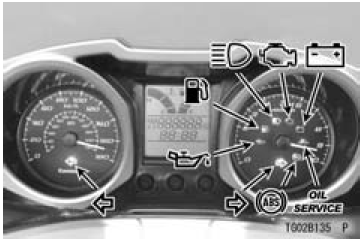 When the ignition switch is turned on, all indicators go on/off as shown in the table. If any indicator does not operate as shown, have it checked by an authorized Kawasaki dealer.

ON: When ignition switch is turned on.

: After a few seconds

: Goes on.

: Goes off.

:

goes off shorty after the motorcycle starts moving.
When Warning Indicators Go On or Blink
When warning indicators appear, there could be a problem with vehicle function.
Follow actions in the table after stopping the vehicle in a safe place.
*: The numbers in this column corresponds to reference numbers.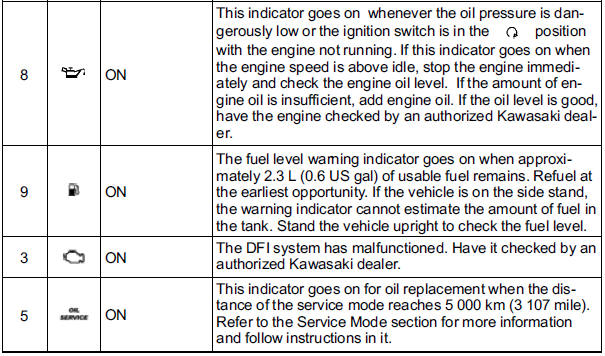 *1: ABS indicator may go on:
After continuous riding on a rough road.
When the engine is started with the center stand raised and the rear wheel turns.
When accelerating so abruptly that the front wheel leaves the ground.
When the ABS has been subjected to strong electrical interference.
When tire pressure is abnormal. Adjust tire pressure.
When a tire different in size from the standard size is being used. Replace with standard size.
When the wheel is deformed. Replace the wheel.
If this happens, first turn the ignition switch off, and then back on, and ride the motorcycle at 10 km/h (6 mph) or more. The ABS indicator should then go off. If it does not, have the ABS checked by an authorized Kawasaki dealer.
Other Indicators

Speedometer/Tachometer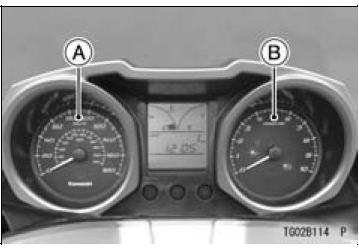 Speedometer
Tachometer
Speedometer
The speedometer shows the speed of the vehicle.
Tachometer
The tachometer shows the engine speed in revolutions per minute (r/min, rpm).
When the ignition switch is turned on, the needles of the speedometer and tachometer momentarily go from the minimum to the maximum, then go back from the maximum to the minimum reading to check its operation. If the speedometer and tachometer do not operate correctly, have it checked by an authorized Kawasaki dealer.
See also:
Speedometer Multifunction Meter Tachometer "MODE" Button "RESET" Button "ADJ" Button Coolant Temperature Gauge Fuel Gauge Multifunction Display Odometer TripMeterA/B Service Mode Clock
Coolant Temperature Gauge The coolant temperature shown by the number of segments displayed. If the coolant temperature rise to above 110ºC (230ºF), all the segments are displayed, and the "H" mark and the coolant temperature indicator blink.