CAUTION Hot engine or hot exhaust system
Burn hazard
Let the engine and exhaust system cool before beginning work.
Place the Scooter on its center stand, ensuring that the ground is level and firm.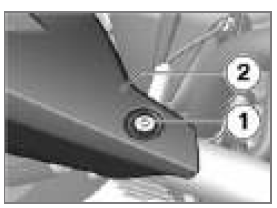 Remove screw 1.
Raise the trim for the silencer 2.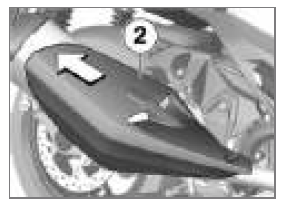 Push the trim for the silencer 2 back and remove it.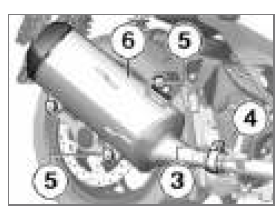 Release the screw 3 of the clamp 4.
Remove the screws 5 with washers.
Pull the silencer 6 off of the exhaust manifold and remove.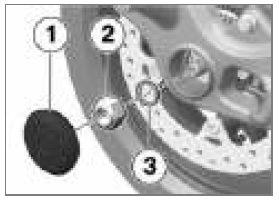 Block the rear wheel brake with a rubber band.

The rear wheel cannot turn.

Carefully pry out the lid 1 and remove it.
Remove the nut 2 and spacer bushing 3.
Remove the rubber band from the rear wheel brake.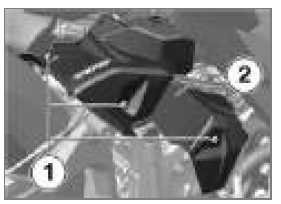 Remove screws 1.
Raise the rear wheel cover 2.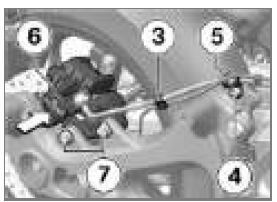 Release the brake hose from the holder 3.
Remove the screw 4 and release the holder for the brake hose 5.
Press the brake caliper 6 against the brake disc.

The brake piston is pushed back.

Remove screws 7.
Pull the brake caliper 6 upward off of the brake disc and let it hang to one side.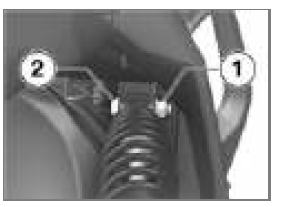 Release the nut 1 of the top spring strut screw connection, bracing the screw 2 with an L-shaped wrench.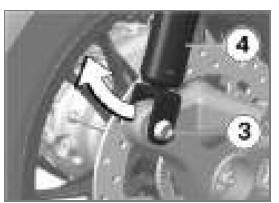 Remove the screw 3.
Swivel the spring strut 4 toward the rear.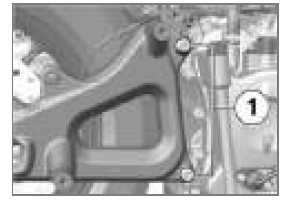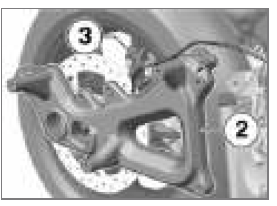 Release the rear wheel swinging arm 2, ensuring that the cable 3 for the wheel speed sensor is not damaged.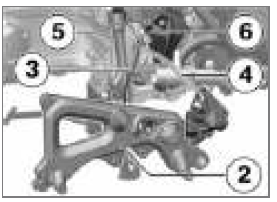 Route the cable 3 for the wheel speed sensor and the brake hose 4 between the oil filler neck 5 and rear wheel cover 6. The cable 3 must not be under tension.
Set down the rear wheel swinging arm 2.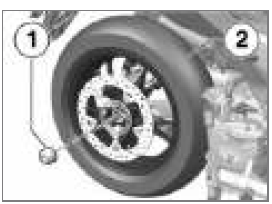 Remove the spacer bushing 1.
Pull the rear wheel 2 off of the output shaft and remove it.
See also:
For every size of tire, BMW Motorrad has tested and approved certain makes as roadworthy. BMW Motorrad cannot evaluate the suitability of other tires, and can therefore take no responsibility for their driving safety.
ATTENTION Tightening of screwed connections with incorrect tightening torque Damage or loosening of screwed connections Always have the tightening torques checked by a specialized workshop, preferably an authorized BMW Motorrad retailer. Lubricate the gearing of the output shaft.