A inexperienced motorcyclist should make himself completely familiar with his vehicle before going out in traffic. You are strongly advised not to lend your vehicle to an inexperienced rider.
To ride a motorbike, you are required by law to hold a licence or to have completed specific training with a professional, depending on the applicable legislation and based on engine capacity.
Both the user and passenger are required to wear an approved helmet. You are also advised to wear gloves and goggles, and light-coloured or reflective clothing adapted to motorcycling.
In some countries, the applicable legislation may not authorise transportation of a passenger, and elsewhere it may oblige motorcycle users to contract a civil liability insurance policy to protect third parties and the passenger against potential dam age resulting from an accident.
Driving whilst under the influence of alcohol, drugs or certain medicines is inexcusable and dangerous for yourself and others.
Excessive speed is an important factor in many accidents.
You must observe the road signs and signals and adapt your speed to the weather conditions.
Luggage racks and approved paniers are available as options. (depending on the model). Assembly instructions should be followed and the maximum permissible load which is between 3 an d 5 kg depending on the equipment should not be exceeded.
The engine and the exhaust pipe can get very hot. When parking, avoid any contact with inflammable materials that could be a fire hazard and with any part of the body as this could lead to severe burns.
Using spare parts that have not been approved by the manufacturer, changing the vehicle's technical characteristics or its performance is forbidden. Any modification will invalidate the warranty and the vehicle will no longer be in compliance with the version approved by the appropriate services.
The vehicle identification data required under Directive 97/ 24/EC features on the control label placed on the vehicle. It represents a measure against tampering with mopeds and light motorcycles.
CHARACTERISTICS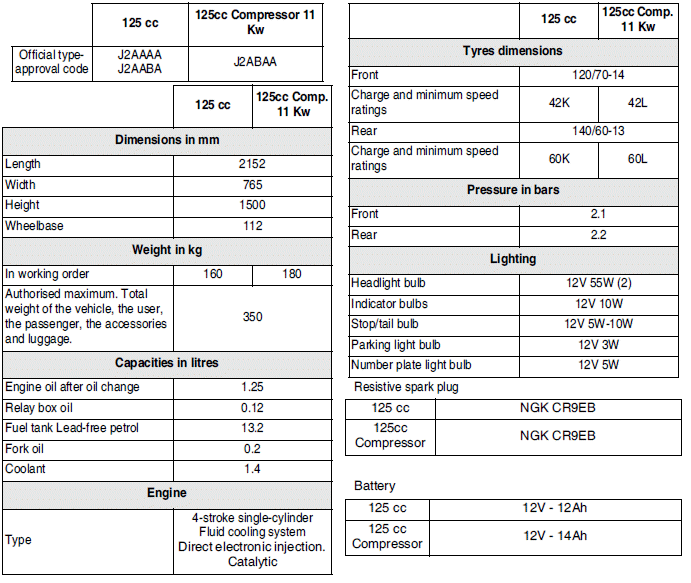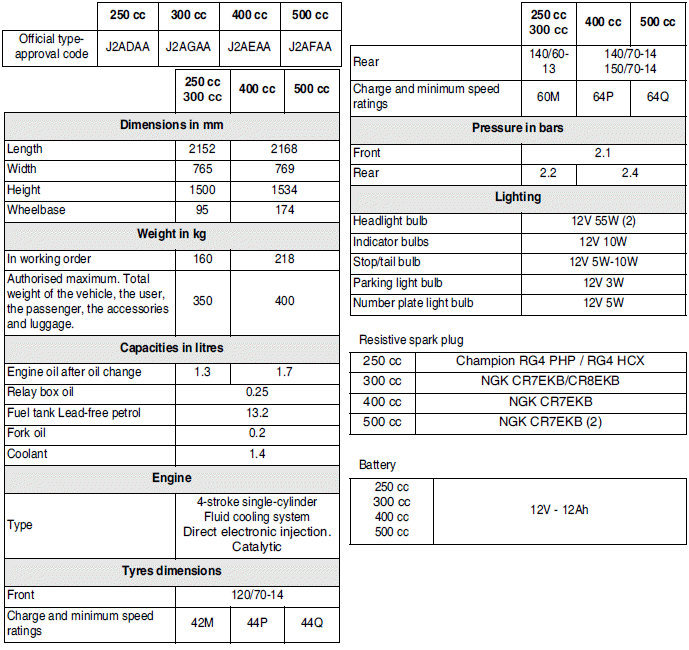 PRODUCTS TO USE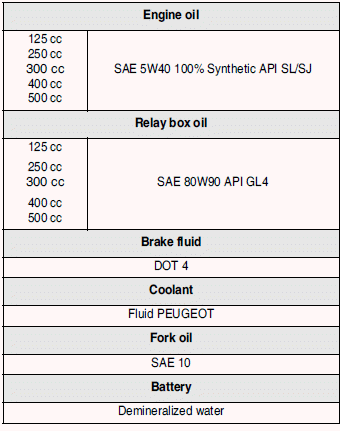 Information about the instructions
Specific information is indicated by the following symbols:
Möbius band
Recyclable.
Means that the product or the package can be recycled.

Irritant
The product can irritate the skin, eyes and repiratory organs.
Avoid contact with skin and clothes. Wear gloves, safety goggles and appropriate clothes such as a cotton overall. Do not breath fumes. If in contact, wash thoroughly with water.

Flammable
Keep it away from any flame or heat source (barbecue, radiator, heating, etc.). Do not leave the product in the sun.

Corrosive
The product can damage living tissues or other surfaces.
Avoid contact with skin and clothes. Wear gloves, safety goggles and appropriate clothes such as a cotton overall. Do not breath fumes. If in contact, wash thoroughly with water.

Explosive
Avoid impacts, friction, sparks and heat.

Hazardous to the environment
The product affects fauna and flora. Do not dump it in dustbins, sinks or in the environment. The ideal solution is to bring this product to your nearest household waste recycling centre.

Toxic
The product can seriously affect health if it is inhaled, ingested or in contact with skin. Avoid direct contact with the body, even b y inhalation. If you feel unwell, seek medical advice immediately.

Do not throw away into a garbage can
One of the product's component is toxic and can be hazardous to environment. Do not throw the used product in the dustbin. Take it back to the trader or to a specific waste disposal site.

People's safety
Operation that can be dangerous for people.
People's safety can be seriously affected if the recommendations are not fully respected.

Important
Operation that can be hazardous to the vehicle.
Indicate the specific procedures that shall be followed in order not to damage the vehicle.
See also:
You have just bought a Peugeot vehicle. We would like to thank you for purchasing one of our products. Please take some time to read this manual carefully before using the vehicle.
Instrument panel Ignition switch Lockable glove box Utility hanger Accessory socket Fuel tank flap Brake fluid level Left brake lever (Main brake1) Right brake lever (Secondary brake1) Throttle Expansion tank Handlebar glove box Saddle cover hatch Battery/Fuses Saddle storage compartment Grab handle Rider saddle Passenger backseat Passenger backrest (400/500 cc only) Manufacturer's plate Central stand Lateral stand Passenger footrests Engine number Chassis markings Engine oil level Anti-theft chain lock 2