SCHEMATIC DRAWING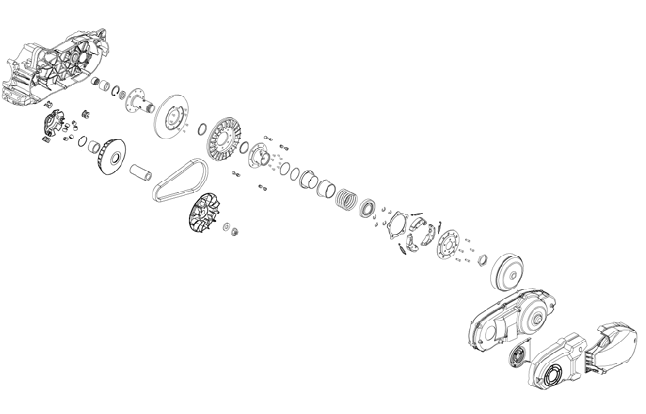 SERVICE INFORMATION
GENERAL INSTRUCTIONS
The drive pulley, clutch and driven pulley can be serviced with the engine installed.
Avoid getting grease and oil on the drive belt and pulley faces. Remove any oil or grease from them to minimize the slipping of drive belt and drive pulley.
Do not apply grease to the movable drive face and weight rollers.
SPECIFICATIONS

Unit: mm (in)
TORQUE VALUES
Drive face nut 135 N*m (13.5 kgf*m, 97 lbf*ft)
Clutch outer nut 80 N*m (8 kgf*m, 58 lbf*ft)
Clutch drive plate nut 78 N*m (7.8 kgf*m, 56 lbf*ft)
SPECIAL TOOLS
Universal holder E017
Clutch spring compressor E053
Oil seal & bearing install E014
TROUBLESHOOTING
Engine starts but motorcycle won't move
Worn drive belt
Broken ramp plate
Worn or damaged clutch lining
Broken driven face spring
Engine stalls or motorcycle creeps
Broken clutch weight spring
Lack of power
Worn drive belt
Weak driven face spring
Worn weight roller
Faulty driven face
See also:
REMOVAL Remove the left center body cover. Remove the three bolts and the left front cover.