SCHEMATIC DRAWING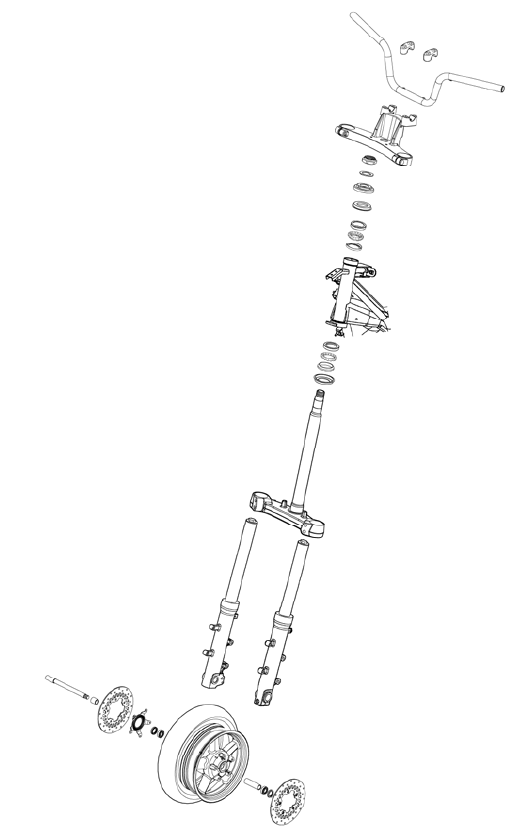 SERVICE INFORMATION
GENERAL INSTRUCTIONS
A contaminated brake disc or pad reduces stopping power. Discard contaminated parts and clean a contaminated disc with a high quality brake degreasing agent.
This section covers of the front wheel , fork, handlebar, and steering.
A jack or other support is required to support the vehicle.
Do not twist or bend the brake hose and pipe when servicing.
Use genuine KYMCO replacement bolts and nuts for all suspension pivots and mounting points
Refer to section 16 for brake system information.
SPECIFICATIONS

Unit: mm (in)
TORQUE VALUES
Handlebar bolt 23 N*m (2.3 kgf*m, 17 lbf*ft)
Steering stem nut 62 N*m (6.2 kgf*m, 45 lbf*ft)
Steering stem lock nut 45 N*m (4.5 kgf*m, 32 lbf*ft)
Steering top thread 17 N*m (1.7 kgf*m, 12 lbf*ft)
Steering stem pinch bolt 23 N*m (2.3 kgf*m, 17 lbf*ft)
Front axle bolt 55 N*m (5.5 kgf*m, 40 lbf*ft)
Front brake disc bolt 42 N*m (4.3 kgf*m, 31 lbf*ft) Lock bolt: replace with a new one.
Front fork bolt 23 N*m (2.3 kgf*m, 17 lbf*ft)
SPECIAL TOOLS
Long socket wrench E015
Bearing remover E037
Oil seal & bearing install driver E014
TROUBLESHOOTING
Hard steering
Steering stem top thread too tight
Worn or damaged steering bearings
Worn or damaged steering bearing races
Bent steering stem
Insufficient tire pressure
Faulty front tire
Steers to one side or does not track straight
Damaged or loose steering bearings
Bent fork
Bent front axle: wheel installed incorrectly
Bent frame
Faulty front tire
Worn or damaged front wheel bearings
Worn or damaged engine mounting bushings
Front wheel wobbling
Bent rim
Worn or damaged front wheel bearings
Faulty front tire
Loose front axle fasteners
Wheel turns hard
Faulty front wheel bearings
Bent front axle
Brake drug
Soft suspension
Weak fork spring
Insufficient fluid in fork
Deteriorated fork fluid
Incorrect fork fluid weight
Low tire pressure
Hard suspension
Bent fork tube
Too much fluid in fork
Incorrect fork fluid weight
Clogged fork fluid passage
High tire pressure
Front suspension noise
Worn slider or fork tube bushing
Insufficient fluid in fork
Loose fork fastener
See also:
REMOVAL Loosen the front axle holder bolt. Loosen the front axle bolt.