LUBRICATION SYSTEM DIAGRAM
SERVICE INFORMATION
GENERAL INSTRUCTIONS
The oil pump service may be done with the engine installed in the frame.
When removing and installing the oil pump use care not to allow dust or dirt to enter the engine.
If any portion of the oil pump is worn beyond the specified service limits, replace the oil pump as an assembly.
After the engine has been installed check that there are no oil leaks and that oil pressure is correct.
For oil pressure indicator inspection, refer to section 20 of this manual.
SPECIFICATIONS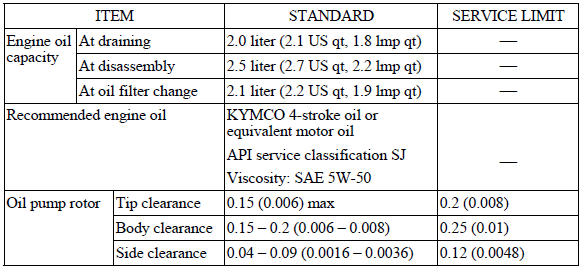 Unit: mm (in)
TORQUE VALUES
Oil pump screw
3 N*m (0.3kgf*m, 2 lbf*ft)
Oil cooler bolt
35 N*m (3.5 kgf*m, 25 lbf*ft)
Oil pressure switch
22 N*m (2.2 kgf*m, 16 lbf*ft)
Apply sealant to threads.
Oil strainer screen cap
15 N*m (1.5 kgf*m, 11 lbf*ft)
Apply oil to the threads and seating surface.
Oil filter cartridge
10 N*m (1 kgf*m, 7 lbf*ft)
Apply oil to the threads and seating surface.
TOOLS
Oil filter wrench E052
TROUBLESHOOTING
Oil level low
Oil consumption
External oil leak
Worn piston ring
Incorrect piston ring installation
Worn valve guide or seal
Oil contamination (White appearance)
From coolant mixing with oil

Faulty water pump mechanical seal
Faulty head gasket
Water leak in crankcase
No oil pressure
Oil level too low
Oil pump drive chain broken
Oil pump drive sprocket broken
Oil pump damaged (pump shaft)
Internal oil leak
Low oil pressure
Pressure relief valve stuck open
Clogged oil filter and strainer screen
Oil pump worn or damaged
Internal oil leak
Incorrect oil being used
Oil level too low
High oil pressure
Pressure relief valve stuck closed
Plugged oil filter, gallery, or metering orifice
Faulty oil pump
Seized engine
No or low oil pressure
Clogged oil orifice/passage
Internal oil leak
Non-recommended oil used
Oil contamination
Deteriorated oil
Faulty oil filter
Worn piston ring (White appearance with water or moisture)

Damaged water pump mechanical seal
Damaged head gasket
Oil relief not frequent enough
Oil pressure warning indicator does not work
Faulty oil pressure switch
Short circuit in the indicator wire
Low or no oil pressure
See also:
CHECK Start the engine. Check the oil pressure indicator goes out after one or two seconds. If the oil pressure indicator stay on, stop the engine immediately and determine the cause (section 20).