Specifications
PERFORMANCE

DIMENSIONS

ENGINE


TRANSMISSION

FRAME

ELECTRICAL EQUIPMENT

Specifications are subject to change without notice, and may not apply to every country.
Serial Number Locations
The engine and frame serial numbers are used to register the motorcycle. They are the only means of identifying your particular machine from others of the same model type. These serial numbers may be needed by your dealer when ordering parts. In the event of theft, the investigating authorities will require both numbers as well as the model type and any peculiar features of your machine that can help them identify it.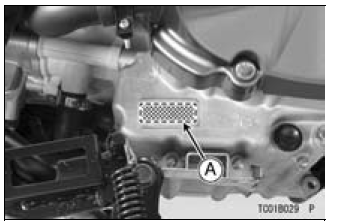 Engine Number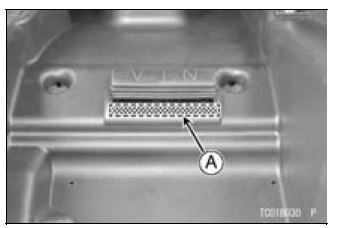 Frame Number
Location of Labels
All warning labels which are on your vehicle are repeated here. Read labels on your vehicle and understand them thoroughly. They contain information which is important for your safety and the safety of anyone else who may operate your vehicle. Therefore, it is very important that all warning labels be on your vehicle in the locations shown. If any label is missing, damaged, or worn, get a replacement from your Kawasaki dealer and install it in the correct position.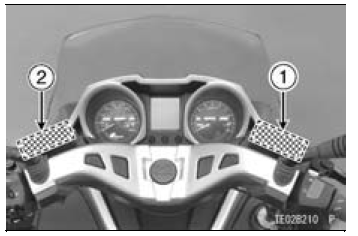 Brake Fluid (Front)
Brake Fluid (Rear)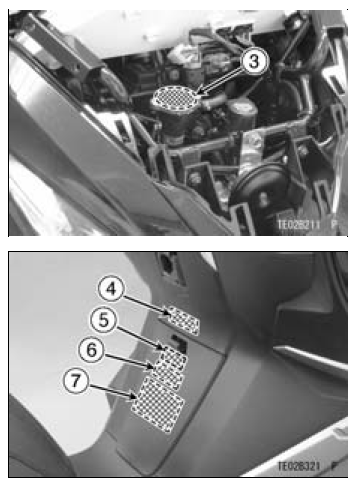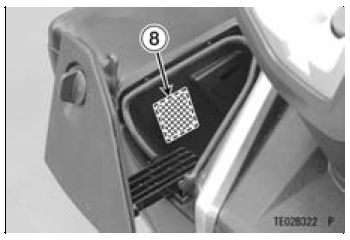 Radiator Cap Danger
Load Weight
Fuel Identification
Unleaded Gasoline
Tire and Load Data
Accessory Socket Notice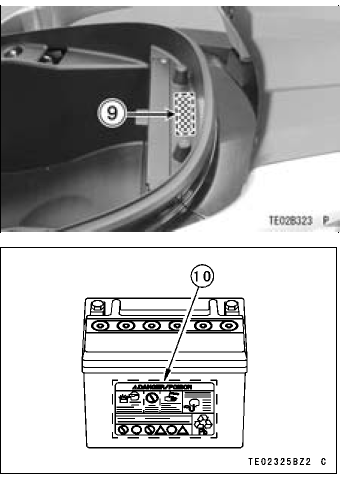 Load Weight
Battery Poison/Danger
1)/2)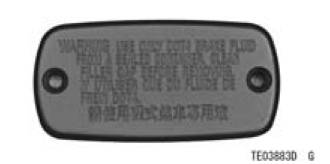 3)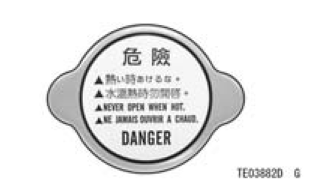 4)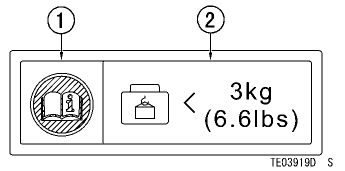 Read Owner's Manual
Convenience hook
5)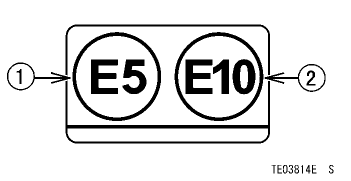 Use fuel identified by either of the above symbols.
Gasoline containing up to 5% ethanol by volume
Gasoline containing up to 10% ethanol by volume
6)
Read Owner's Manual
Unleaded gasoline
7)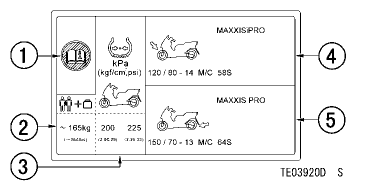 Read Owner's Manual
Maximum load
Tire pressure
Front tire size and manufacture
Rear tire size and manufacture
8)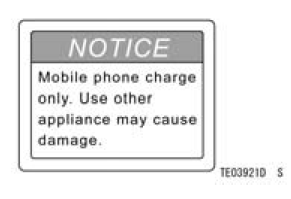 9)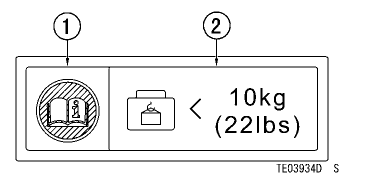 Read Owner's Manual
Storage box
10)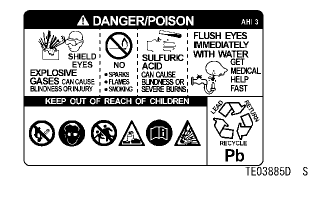 Location of Parts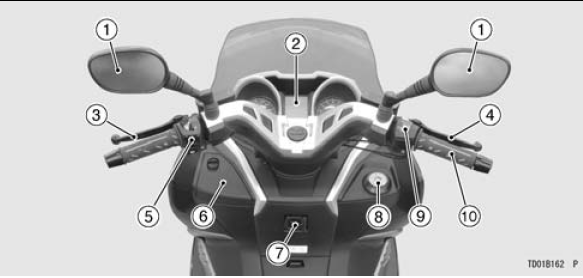 Rear View Mirrors
Meter Instruments
Rear Brake Lever
Front Brake Lever
Left Handlebar Switches
Glove Box (Accessory Socket 12 V)
Convenience Hook
Ignition Switch/Steering Lock/Security
Shutter/Seat Lock
Right Handlebar Switches
Throttle Grip
Turn Signal Lights
Headlight
Seat
Battery/Fuse Box
Tail/Brake Light
License Plate Light
Coolant Reserve Tank
Side Stand
Spark Plug
Center Stand
Air Cleaner Box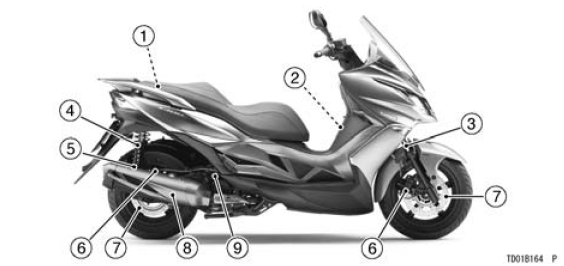 Tool Kit
Fuel Tank Cap
Front Fork
Rear Shock Absorber
Spring Preload Adjuster
Brake Calipers
Brake Discs
Muffler
Oil Filler Cap/Dipstick
See also:
Speedometer Multifunction Meter Tachometer "MODE" Button "RESET" Button "ADJ" Button Coolant Temperature Gauge Fuel Gauge Multifunction Display Odometer TripMeterA/B Service Mode Clock