Frame
/ Center Stand, Side Stand
Center Stand Removal
Remove:
Spring [A]
Center Stand Bolts [B] and Nut (Both Sides)
Center Stand [C]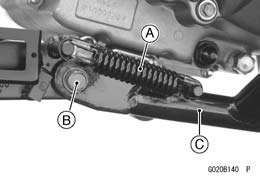 Center Stand Installation
Be sure that the collars [A] are in position.
Apply grease to the inside of the collars.

If the damper [B] is damaged, replace it.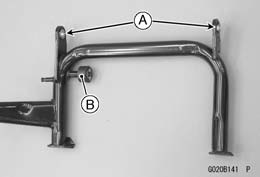 Replace the center stand nuts with new ones.
Install:
Center Stand
Center Stand Bolts and New Nuts

Hook the spring [A] as shown.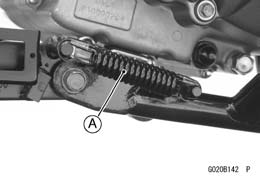 Side Stand Removal
Use the center stand to support the motorcycle upright.
Remove:
Side Stand Switch (see Side Stand Switch Removal in the Electrical System chapter)
Spring [A]
Side Stand Bolt [B]
Side Stand [C]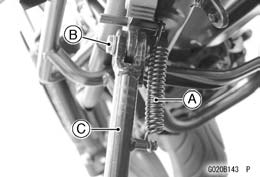 Side Stand Installation
Apply grease to the sliding area [A] of the side stand.
Install:
Side Stand
Side Stand Bolt
Hook the spring [B] as shown.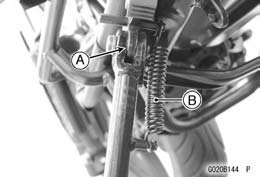 Rear View Mirror
Rear View Mirror Removal
Slide the rubber cover [A].
Loosen the locknut [B] and remove the rear view mirror [C].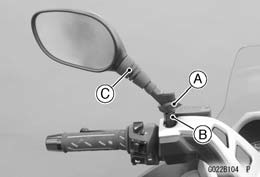 Rear View Mirror Installation
Install the rear view mirror and tighten the locknut [A].
Adjust the rear view mirror slightly with its mirror [B].

If necessary, loosen the locknut [C] and adjust the mirror.

Install the rubber covers.

Installation and adjustment of the right side are common with those of the left side. Follow the procedure specified at the left side.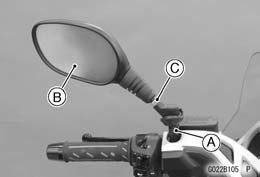 See also:
Mud Guard Removal Remove: Bolts [A] Mud Guard [B] Remove the bolts [A], and free the air cleaner box to remove the mud guard.