Cylinder Head Cover
Cylinder Head Cover Removal
Remove the storage box (see Storage Box Removal in the Frame chapter).
Open the clamp and disconnect the breather hose [A].
Loosen the bolt and remove the fuel hose bracket [B].
Remove:
Cylinder Head Cover Bolts [C]
Cylinder Head Cover [D]
Cylinder Head Cover Gasket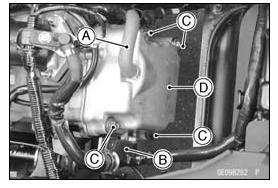 Cylinder Head Cover Installation
Replace the cylinder head cover gasket with a new one.
Install the new cylinder head cover gasket [A] on the cylinder head cover.
Using a high flash-point solvent, clean off any oil or dirt that may be on the liquid gasket coating area. Dry them with a clean cloth.
Apply liquid gasket [B] to the cylinder head cover as shown.

Sealant - Liquid Gasket, TB1216: 92104-1063

Install the dowel pin [C].
Install the cylinder head cover to the cylinder head.
Install the cylinder head cover bolts.

Torque - Cylinder Head Cover Bolts: 9.8 N*m (1.0 kgf*m, 87 in*lb)

Install the removed parts (see appropriate chapters).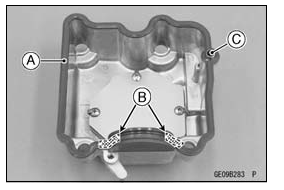 Camshaft Chain Tensioner
Camshaft Chain Tensioner Removal
NOTICE This is a non-return type camshaft chain tensioner.
The push rod does not return to its original position once it moves out to take up cam chain slack. Observe all the rules listed below.
When removing the tensioner, do not take out the mounting bolts only halfway. Retightening the mounting bolts from this position could damage the tensioner and the camshaft chain. Once the bolts are loosened, the tensioner must be removed and reset as described in "Camshaft Chain Tensioner Installation". Do not turn over the crankshaft while the tensioner is removed. This could upset the camshaft chain timing, and damage the valves.
Remove:
Storage Box (see Storage Box Removal in the Frame chapter)
Camshaft Chain Tensioner Cap Bolt [A]
Camshaft Chain Tensioner Mounting Bolts [B]
Clamp [C]
Camshaft Chain Tensioner [D] and Gasket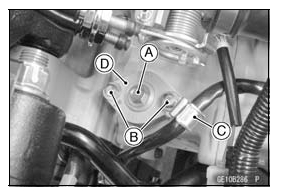 Camshaft Chain Tensioner Installation
While compressing the push rod [A], turn it clockwise with a suitable screwdriver until the rod stopped.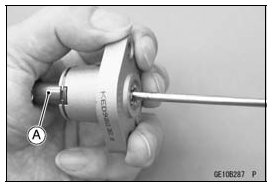 NOTICE Do not turn the rod counterclockwise before installing the tensioner. This could detach the rod and the tensioner cannot be reinstalled.
While holding the rod in position with a suitable push rod holder plate [A] install the tensioner on the cylinder block.

3.5 mm (0.14 in.) [B]
11 mm (0.43 in.) [C]
18 mm (0.71 in.) [D]
8.5 mm (0.33 in.) [E]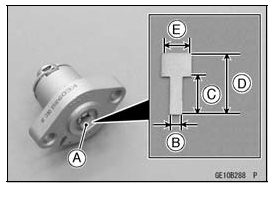 Replace the chain tensioner gasket with a new one.
Install:
Camshaft Chain Tensioner
Clamp [A]
Camshaft Chain Tensioner Mounting Bolts [B] Torque - Camshaft Chain Tensioner Mounting Bolts: 12 N*m (1.2 kgf*m, 106 in*lb)
Take out the holder plate [C].
Replace the tensioner cap bolt O-ring [D] with a new one.
Apply grease to the O-ring.
Tighten:
Torque - Camshaft Chain Tensioner Cap Bolt: 4.4 N*m(0.45 kgf*m, 39 in*lb)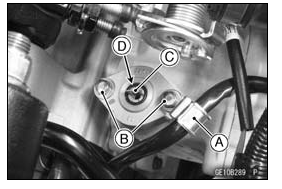 See also:
Camshaft Removal Remove: Camshaft Sprocket (see Camshaft Sprocket Removal) Rocker Arms (see Rocker Arm Removal) Camshaft [A]