The fuel tank should only be filled when the engine is completely off and avoiding overflowing. Any overflows must be wiped up immediately.
To reduce fuel consumption and protect your vehicle's mechanics.
Avoid using very high revs over very short distances.
Do not race the engine when declutched.
Ensure that the weight of the user, the passenger, luggage and accessories does not exceed the maximum authorised load.
Switch off the engine, even during a short halt.
Managing fuel consumption is also a way of personally contributing to environmental protection.
RUNNING IN THE ENGINE
You are advised to maintain a constant speed and avoid using the vehicle at more than 80% of its maximum speed for the first 500 kilometres.
After the first 500 kilometres, the speed can be progressively increased to reach maximum speed, but avoid using this speed for extended periods.
While the engine is being run in, you are advised not to overload the vehicle to avoid the engine operating temperature rising above normal.
The engine will only reach maximum performance after several thousand kilometres.
SWITCHING OFF THE ENGINE AND PARKING
The engine is switch ed off when at idling speed by turning the ignition key to "OFF".
The vehicle should be parked on flat ground.
Either on the middle stand.
Or on the lateral stand.
Each time the vehicle is parked, the steering should be locked and the ignition key removed.
ANTI-THEFT CHAIN 1
The anti-theft chain is supplied with two keys, one of which is fitted with a battery-powered light LED.
A coded card used to obtain a replacement key from the supplier is provided with the keys.
The chain should be wound around a fixed secure point or the rear wheel. (except for 250 cc)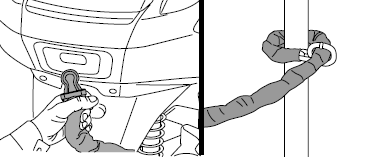 It is then engaged into a special lock built into the frame.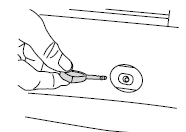 Locking and unlocking is done with one of the keys from inside the under-seat storage compartment.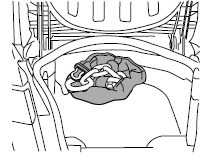 You are advised to always stow the chain in the front section of the under-seat compartment.
See also:
WARNING Before using the vehicle for the first time, make sure you are familiar with all the controls and their respective uses. If you are not sure about the functions of any of the controls, your registered dealer can answer your questions and give you any help you may require.
Engine oil 125 cc. Oil level inspection via the inspection window. Place the vehicle on its central stand on flat ground.