Note: To remove the cylinder head, remove the power propulsion unit.
For removal of the cylinder head, cylinder and piston, see the workshop manual: 4 stroke engine. 4 valves.
Reference: 759533.
Remove the storage compartment. See: Procedure 4.
Remove the footboards. See: Procedure 6.
Remove the bottom panel.
Remove the battery bracket. See: Procedure 9.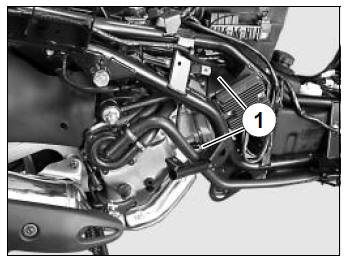 Disconnect the lambda sensor. (1)
Remove the exhaust assembly.
Remove the intake silencer. (2)
Remove the rear mudguard. (3)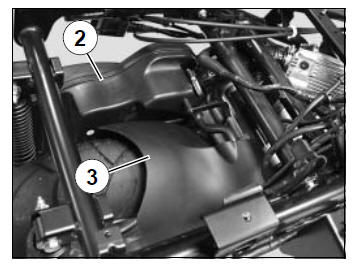 Remove the screw that secures the wiring harness clamp and the fuel hose anchor bracket. (A)
Disconnect:

The fuel injector. (4)
The throttle box. (5)
The temperature sensor. (6)
The magneto. (7)
The engine ground. (8)
The suppressor.

Disconnect the injector fuel feed hose. (9)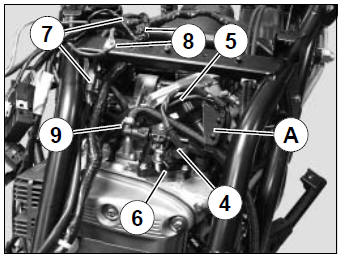 Disconnect:

Oil pressure switch. (10)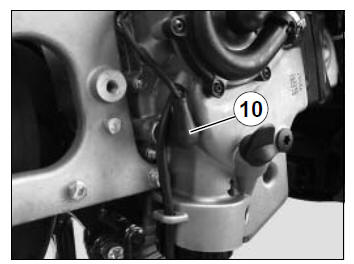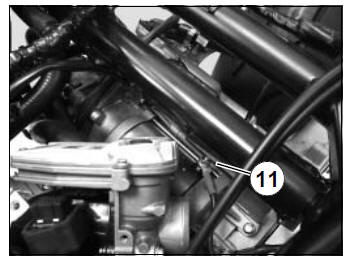 Disconnect the lower pump from the coolant pump to drain the cooling system.
Disconnect the cylinder head hose. (12)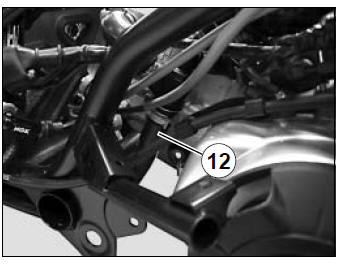 Remove the suspension arm.
Remove the wheel.
Remove the calliper. (13)
Re-install the wheel.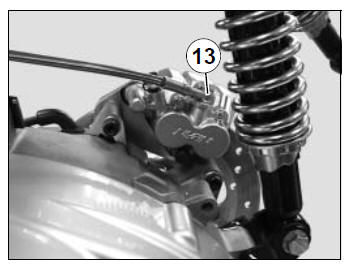 Suspend the rear of the machine.
Remove the shock absorber lower mount (14).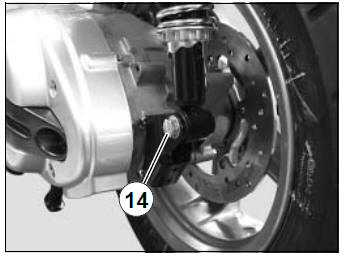 Remove the linkrod-to-engine connecting pin. (15)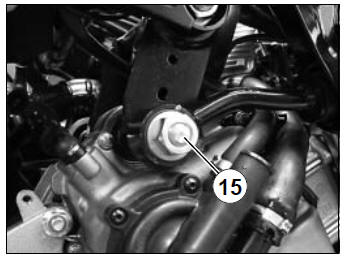 Lift the rear of the machine.
Disconnect the throttle control cables. (16)
Remove the engine.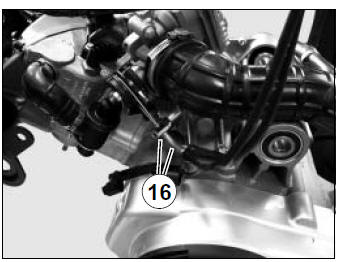 Remove the 4 spacers. (17)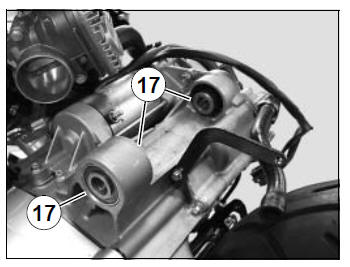 See also:
Remove the RH fairing. See: Procedure 3. Disconnect the lambda sensor. Using a box-end wrench, remove the lambda sensor. Tightening torque: 2.5 m.daN
Replacing the steering head cups. Remove the handlebar upper fairing (8 screw). Remove the braking units on the handlebars. 1 Remove the nut and screw that secure the handlebars. Remove the handlebars from the fork tube. Remove the front brake caliper from the fork tube. (Left-hand side 2)