Remove the RH fairing. See: Procedure 3.
Disconnect the lambda sensor.
Using a box-end wrench, remove the lambda sensor.
Tightening torque: 2.5 m.daN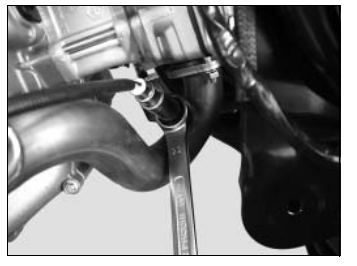 Note: When reinstalling, lubricate the threads (A) of the sensor with graphite grease.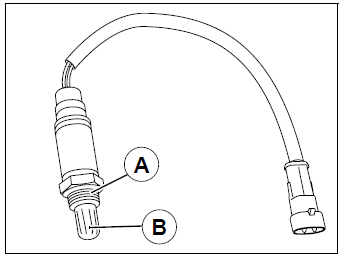 In order not to damage the Lambda sensor, never lubricate or clean the end piece (B) which is exposed to the exhaust gas.
Removal of the regulator
Remove the RH footboard. See: Procedure 6.
Disconnect and remove the regulator. (1)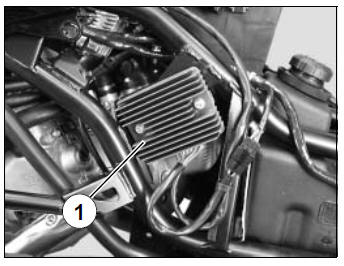 Removal of the radiator
Remove the tank cover panel. See: Procedure 5.
Disconnect the fan. (1)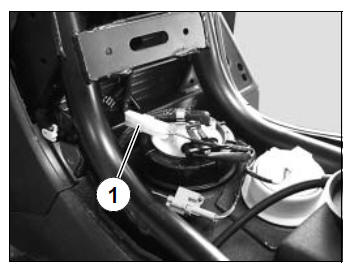 Remove the front shield panel. See: Procedure 8.
Remove the mudguard.
Remove the footboard linking cross member.
Remove the upper fixing bolts. (2)
Drain the cooling circuit.
Disconnect the 4 hoses of the radiator's cooling circuit.
Remove the radiator.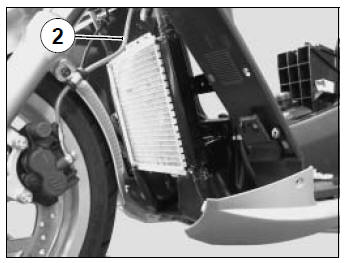 Remove the fan. (3). (3 screw)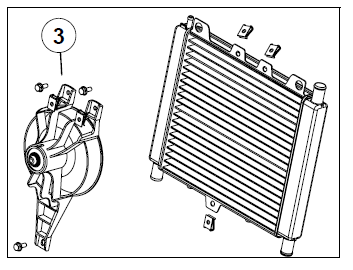 Removal of the engine mounting assembly
Remove the storage compartment. See: Procedure 4.
Remove the footboards. See: Procedure 6.
Suspend the rear of the machine.
Remove the intake silencer. (1) (2 clips and 3 screws).
Remove the sheath holder. (A)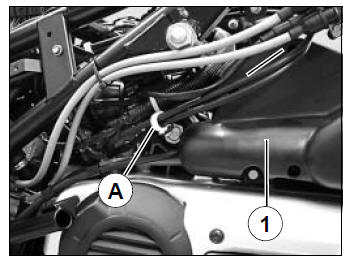 Tightening torque: 9.5 m.daN.
Remove the 2 nuts from the torque rods. (3)
Tightening torque: 3.6 m.daN.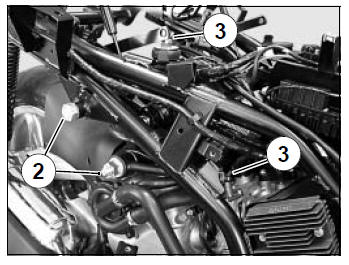 Remove the linkrod-to-engine connecting pin. (4)
Remove the linkrod-to-frame connecting pin. (5)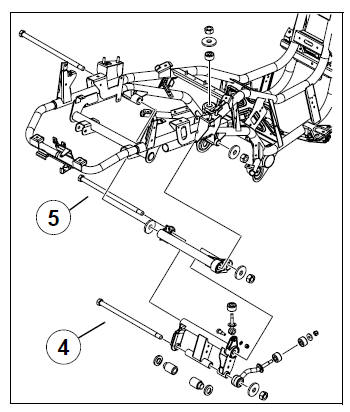 Remove the linkrod connecting pin. (6)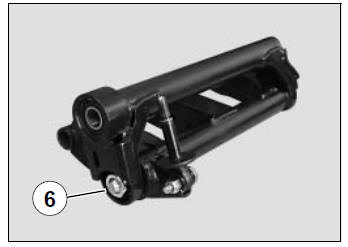 Check the condition of the spacers and needle bearings. (7)
Make sure that the silent block is not cracked. (8)
Note: We recommend greasing all needle bearings when refitting these parts.
When re-installing, fit the rubber bushings with the colours shown:
Black
Grey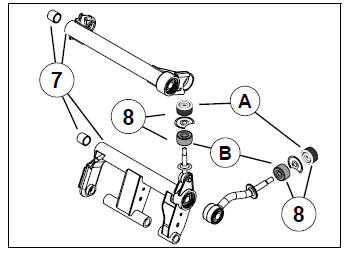 See also:
Procedure 10. Remove the battery bracket. See: Procedure 9. Disconnect the fuel injector. Remove the fuel injector without disconnecting the supply hose. Connect the fuel injector power supply harness tool P/N 756017 to the fuel injector and the battery. Place the injector above a pan. Actuate the contact switch of the tool 3 times for 5 seconds while respecting a released time of 5 seconds between each action, in order to drop the pressure inside the supply hose of the fuel manifold.
Note: To remove the cylinder head, remove the power propulsion unit. For removal of the cylinder head, cylinder and piston, see the workshop manual: 4 stroke engine. 4 valves.