SCHEMATIC DRAWING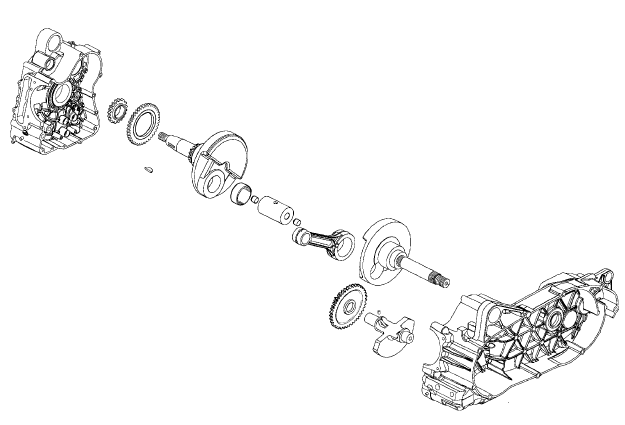 SERVICE INFORMATION
GENERAL INSTRUCTIONS
This section covers crankcase separation to service the crankshaft and balancer. The engine must be removed for this operation.
When separating the crankcase, never use a driver to pry the crankcase mating surfaces apart forcedly to prevent damaging the mating surfaces.
When installing the crankcase, do not use an iron hammer to tap it.
The following parts must be removed before separating the crankcase.

Cylinder head (section 8)
Cylinder/piston (section 9)
Drive and driven pulley (section 10)
A.C. generator/starter clutch (section 12)
Starter motor (section 19)
Oil pump (section 4)
SPECIFICATIONS

Unit: mm (in)
TORQUE VALUES
Crankcase bolt 12 N*m (1.2 kgf*m, 9 lbf*ft)
Cam chain guide bolt 20 N*m (2 kgf*m, 15 lbf*ft)
Oil pipe bolt 43 N*m (4.3 kgf*m, 31 lbf*ft)
SPECIAL TOOLS
Bearing puller E037
Oil seal & bearing driver E014
TROUBLESHOOTING
Excessive engine noise
Worn connecting to small end
Worn or damaged crankshaft bearings
CAM CHAIN/CAM CHAIN GUIDE REMOVAL
Remove the starter driven gear.
Remove the cylinder.
Remove the cam chain from the right crankcase.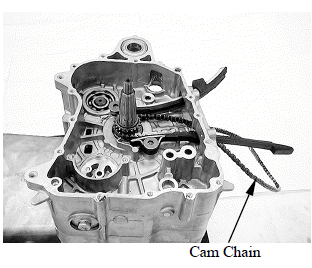 Remove the bolts and cam chain guides.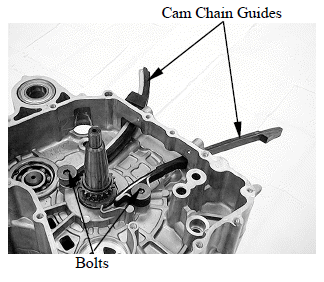 INSPECTION
Cam chain guide
Inspect the cam chain slipper surface of the cam chain guide for wear or damage.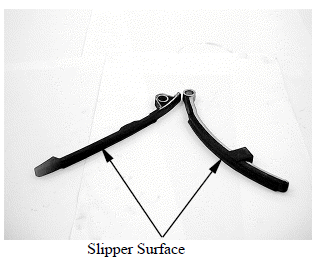 Cam chain
Inspect the cam chain for cracks or stiff.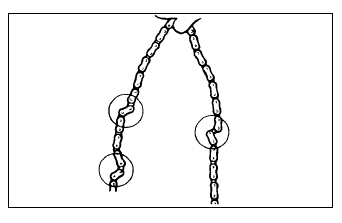 See also:
Remove the parts required for crankcase separation. Remove the twelve bolts from left crankcase. Loosen the bolts in a crisscross pattern in several steps.