SCHEMATIC DRAWING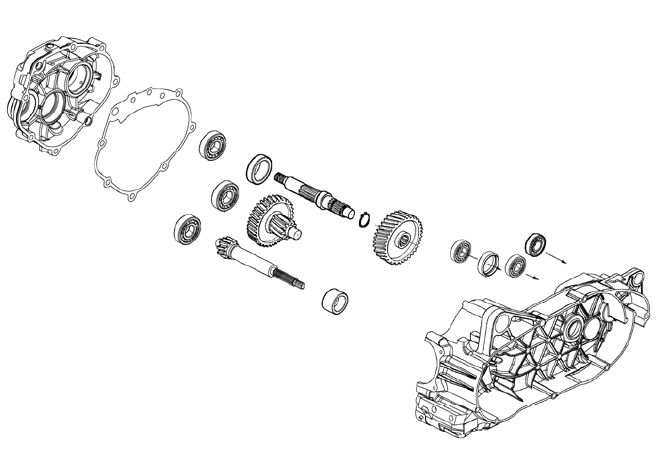 SERVICE INFORMATION
GENERAL INSTRUCTIONS
The servicing operations of this section can be made with the engine installed.
When replacing the drive shaft, use a special tool to hold the bearing inner race for this operation.
SPECIFICATIONS
Specified Oil: SAE 90#
Oil Capacity:
At disassembly : 0.55 L (0.57 US qt, 0.5 Imp qt)
At change : 0.45 L (0.48 US qt, 0.4 Imp qt)
TORQUE VALUES
Transmission case cover bolt 27 N*m (2.7 kgf*m, 20 lbf*ft)
Oil drain bolt 24 N*m (2.4 kgf*m, 18 lbf*ft)
Oil filler bolt 24 N*m (2.4 kgf*m, 18 lbf*ft)
SPECIAL TOOLS
Bearing puller E037
Oil seal & bearing driver E014
Universal bearing puller E030
TROUBLESHOOTING
Engine starts but motorcycle won't move
Damaged transmission
Seized or burnt transmission
Faulty drive and driven pulleys/clutch
Abnormal noise
Worn, seized or chipped gears
Worn bearing
Oil leaks
Oil level too high
Worn or damaged oil seal
Cracked crankcase
See also:
REMOVAL Remove the left crankcase cover. Hold the drive pulley face with the special tool and loosen the drive pulley face nut. Special tool: Universal holder E017
Remove the exhaust muffler. Remove the rear brake caliper. Remove the right rear shock absorber. Remove the rear fork. Remove the rear wheel. Drain the transmission gear oil into a clean container.