Start screen
Check Control display Displays
Coolant temperature
Range
Service display
Vehicle mileage/km
Vehicle voltage
Oil-level check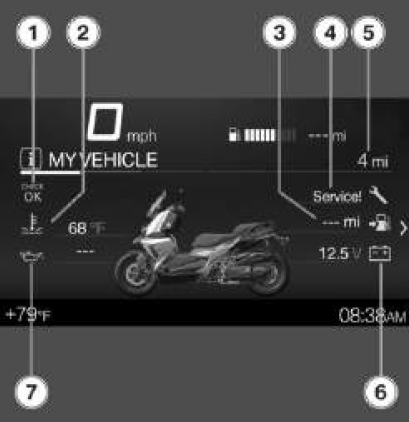 Operating instructions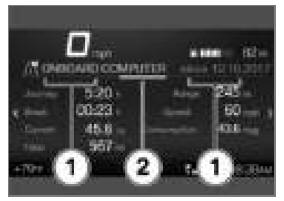 Operating instruction 1: tab that shows how far to the left or right you can leaf.
Operating instruction 2: tab that shows the position of the current menu screen.
Leafing through menu sheets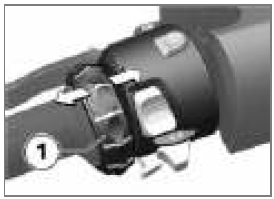 Call up menu My vehicle.
Short press Multi-Controller 1 to the right to leaf to the right.
Short press Multi-Controller 1 to the left to leaf to the left.
The following screens are included in the My Vehicle menu:
MY VEHICLE
Check Control messages (if present)
ONBOARD COMPUTER
TRIP COMPUTER
SERVICE REQUIREMENTS
For more information on tire pressure and Check Control messages, please refer to the "Displays" chapter.
NOTICE Check Control messages are dynamically added as additional tabs to the menu screens in the My Vehicle menu.
Onboard computer and travel onboard computer
The ONBOARD COMPUTER and TRIP COMPUTER menu screens show data about the vehicle and the trip, such as average values.
Service display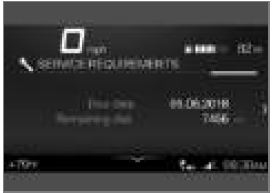 If the remaining time until the next service is less than a month, or the next service is due in less than 700 mi (1000 km), a white Check Control message is displayed.
See also:
Short-range radio technology The Bluetooth function may not be offered depending on the country of use. Bluetooth is a short-range radio technology. Bluetooth devices are short-range devices (transmitting with a limited range) on the license-free ISM band (Industrial, Scientific, Medical) between 2.402 GHz and 2.480 GHz. They can be operated anywhere in the world without requiring a license.
Warnings WARNING Operation of a smartphone while riding or with the engine running Accident hazard Observe the relevant road traffic regulations. Do not use while riding (except for applications without operation such as telephony via the hands-free system).